Details
Thank you for rating this article.
ECOGRA — the guarantor of the reliability of an online casino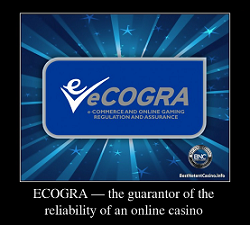 This section focuses on the detailed description of the non-profit regulatory organisation - ECOGRA. Regulating the legal relations between the player and casino, the company strives to bring all online casinos to common standards, concurrently explaining to players their rights and obligations during online gambling.
ECOGRA
The company was founded as a non-profit organisation in 2002. It is worth noting that the main sponsors were made by the giants like Microgaming and 888 Holdings. The creation of the regulatory company Ecogra was aimed at the introduction of the common standards into an online marketplace for all gambling houses and the protection of the player's rights.
Main objectives of the company are
Where to play
You may want to read the following sections