Details

Written by

Vladislav Dibrov
Last Updated: Wednesday, 11 January 2023 17:59
Deposit and cool off limits at all Softswiss online casinos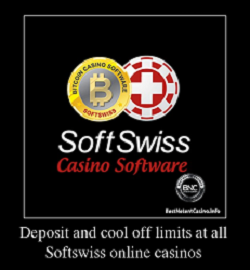 Hello everyone, I see many articles mentioning that you may set limits in a Softswiss online casino (
our most recommended is Fastpay
). The support team refuses to place the deposit limits and the self-exclusion. Below you may see a conversation with one of the Softswiss support teams:
Limits declined or "simply do not click the link."
Max: Hello. How may I help you?
Client: Hi, could you set a cooling-off period of 6 months, please?
Max: You may set it in your account.
Client: It's up to 30 days there.
Max: Set it for 30 days. Just do not cancel it, and it will last 6 months.
Client: My account will be re-activated after 30 days: Cool Off. This limit type allows the player to set a limit for 1 week, 1 month, 3 months and 6 months. When the limit is set, the player can't make any deposits at the casino and will also be excluded from all the advertising offers. However, the player is free to withdraw funds during the cooling-off period. When the limit expires, the player's account will be re-activated. You should know this.
Max: Of course, we do. However, we do not set the cooling-off period. The players are the ones who do it.
Client: So, you refuse to set a limit of 6 months? You know that I can set just 30 days.
Max: do not cancel it, and it will last as long as you want.
Client: It's not a deposit limit; after 30 days, my account will be re-activated.
Max: If you click the link in your e-mail – then yes. Just do not click the link.
Client: Nonsense.
How to set deposit limits at Fastpay, TTR casino, Playamo, Bob and other Softswiss casinos
So, to set limits in any Softswiss casinos (Fastpay, TTR casino, Playamo, Bob, and so on), you need to:
Log into your account
Access the website, use the address of the online casino instead of "casino-website" - casino-website/profile/limits/deposit/edit?period=month
Let me say that the Softswiss casinos are just fu*kin out of their minds, and they brazenly refuse to set limits, despite all the violations of their terms and conditions. If you set a deposit limit, you will be able to cancel it only after 7 days. During that period, you will cool down and will not lose. Although, as experience suggests, if the support team acts dingy, they may easily cancel those limits earlier. You should understand, they definitely can set limits, but they intentionally complicate the cool off process, hiding the options of 3 and 6 months, so, you lose money and they win.
Where to play?