Details
Lucky streak 3 pokie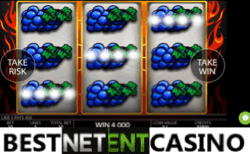 Introducing the classic Lucky Streak 3 pokie from Endorphina. It has five lines, three reels and three rows of symbols. The biggest win is 7500 coins for a combination of three symbols. The only bonus is doubling the winning when the entire playing field is filled with identical symbols. There is also a risk game here with standard rules. Next, you will find a review by an experienced tester, he left not only his opinion about the game but also made some important recommendations.
Feedback and recommendations from the testing team
Lucky Streak 3 pokie is a full copy of Ultra fresh pokie and, in fact, is a classic three-reel game with a very high-quality picture and sound. In the machine, as well as the clone, the parameters are already familiar to many punters: 3 reels, 5 pay lines and the lack of bonus feature or free spins.
The theoretical maximum winning is 150x total bets per line, and, accordingly, 750 bets five pay lines, but it is worth noting that the top characters can't be in full screen, so you should count only 1 pay-line and, accordingly, 150x bets. Cheaper combinations costing 12x and 40x total bets are also not triggering in a full screen. Symbols and winning combinations, priced at 8x bets per line can be full screen, and the pokie is quite capable of giving out a full screen of such symbols, i.e. total winnings of 40x bets, which the pokie multiplies by multiplier x2, i.e. total winnings will be already 80x total bets.
Nevertheless, the most part of the spins brings winnings within 1x-16x bets, less often, the pokie gives out combinations of 40-80x total bets, which makes it quite possible to keep the balance not badly, and to increase it in a number of game sessions.
Risk game in this pokie is a classic card, more about which here.
In conclusion, it can be said that Lucky Streak 3 pokie can be considered to play for bonus money, due to the fact that the pokie keeps the balance not bad, but you need to look at the pokie not to be "cold", since during these periods It is not suitable for playing for bonus money, so only neutral recommendations. When playing for your own money, it is recommended to increase your winnings in the risk game more often due to the low potential for triggering big winnings, as well as to leave the pokie after a series of winnings of 40x-80x total bets.
Alternative tester review
Endorphina decided to release the third series of one of its classic machines, Lucky streak 3 pokie. Personally, it is completely strange to me what is the point and with what purpose they are doing it. Maybe they just fill in the list of their pokies, in principle, the more the better. All these 3 versions are very similar to each other, not just the name, they have the same RTP - 96%, the average level of volatility, just different interfaces and sometimes the number of lines in the pokies changes. And of course, each of them has his one bonus feature. So, the way they play is absolutely the same.
Specifications
Size - 3x3;
Lines - 5;
Volatility is average;
RTP - 96%; Bonus feature multiplier X2. If you collect a full screen one of the symbols of fruits (cherry, grapes, lemon, plum), then the win is multiplied by x2.