Details
Luxurylife pokie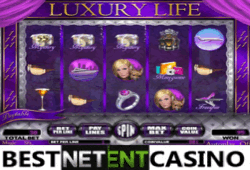 The rich and luxurious life of a billionaire awaits you in Luxurylife pokie from the company Endorphina. Winnings up to 100,000 coins pokie issues on five reels and 20 payout lines. Thanks to several bonuses from the rich man, you can get additional rewards. In the free spins are special symbols in the form of cut bills. There is an average return rate, RTP is 96%. Below you will find detailed information about the game, as well as feedback and recommendations from our testers.
Review and recommendations by our testing team
Luxurylife pokie is a continuation of Endorphina's principle for creating clone pokies, and this time Jetsetter pokie was taken as the basis. The pokie, as well as the analogue, has a quite pleasant picture and sound, as well as the gameplay already familiar to us.
The winning cycle of the pokie in the main game is almost identical to its analogue and Luxurylife quite well keeps the balance, giving out from 0.5-35x total bets. Sometimes there are series of spins without winning combinations and practically excluding the issuance of combinations by the cost more than 100 bets in the main game.
Luxurylife is not very generous for triggering free spins feature, and sometimes waiting for its activation can reach several hundred spins, but also can be triggered from the very beginning of your session. As in Jetsetter, here also, the feature cannot be re-triggered.
The gameplay is the free spins feature is interesting and differs from the classic provider gameplay with 15 free spins and x3 multiplayer. Instead, we see half banknotes of various denominations (from 1 to 500), which, when they are the same, give the punter a win equal to the denomination of the bill multiplied by the bet.
Despite 20 free spins, and the big potential of the feature, the total win is usually small - 1x-20x total bets. More rarely, it is possible to get a win of 50x or 100x bets, but I could not get 200x and 500x total bets during testing, although such winnings have already been recorded by the provider (giving out x500-600+ total bets). The average value of the total win in the bonus free spins feature, as a rule, varies between 40-80x bets, rarely the pokie gives out less than 40x bets or 100-150x total bets.
Neutral (rather, even negative) recommendations when playing with bonus money, since the pokies from this provider are still far from the best to fulfil the wagering requirements, and this one is not an exception. When playing for real money, I would not recommend long gaming sessions, because of the sometimes long losing series and the low potential of getting big win in the bonus free spins feature, so, only short sessions in an attempt to get the bonus feature (or, of course, big win) from the beginning.
Alternative tester's review
Here is another novelty from the company Endorphina, however, this pokie doesn't look very similar to the rest of the machines of this provider. The pokie plays exactly the same in all sizes of bets, which is very strange. I tested it for a long time and could not understand it, why playing on 1, 5 or 20 euro bet, there is no difference for the average win in bonus free spins, all were about 50x - 60x total bets. Yes, there were moments when I won 102x at a rate of 0.8 euro and 83x at a bet of 1.5 euro, but these are rare cases.
During free spins, there are some additional bonus features which can multiply your winning from 1x to 500x. Honestly, the situation with its declared maximum win x1000 is not very clear. For 5 scatters, x500 is paid, for 5 wild - x450, for the 5 most expensive symbols, x37.5, that is, suppose that they all fell on the playing field at the same time and still we get x987.5, but this is not x1000. Again, during the bonus free spins feature, theoretically, we can win x10,000, 20 times x500. There are strange things with the maximum winnings.
In total, this pokie did not impress me, I had the feeling that it was just another clone of several other pokies (from the same provider). And I understand perfectly well that this is Endorphina, it can give nothing for a long time, but believe me, I played it very, very long, about 300 spins for each bet size, i.e. and at the same time my maximum win was only 102x total bets for 0.80 euro bet, somehow ridiculous. Yes, maybe I am very unlucky and this pokie has great potential in the future, who knows? You might be luckier than me.
Specifications
Size 5x3;
Lines - 20;
Volatility is average;
RTP return rate is 96%;
The maximum winning is 500x (5 scatters). But during the bonus free spins, theoretically, you can win 10,000x total bets.
Bonus options
Bonus free spins. If 3 or more scatter symbols appear, you get a cash prize and 20 free games.
2 scatters - x2 your bet;
3 scatters - x5 your bet + 20 free games;
4 scatters - x20 your bet + 20 free games;
5 scatters - x500 your bet + 20 free games. During free spins, the cut bill with multipliers will fall on the reels, if the two halves of the bill stick together, you will get your multiplier indicated on the bill. The bills are with multipliers: x1, x2, x5, x10, x20, x50, x100, x200 and x500.