Details
Guns N Roses pokie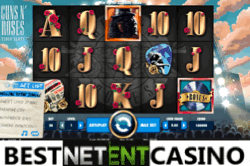 The world finally saw
Guns N Roses pokie
in 2015 at the exhibition held by UK software supplier for the online casinos. This was an event eagerly awaited by punters, who follow the new developments in Australian online gaming. The peculiarity of this pokie is that it is fully devoted to one of the most famous hard rock groups. This pokie is using stretch cycles of winning and offers several bonus features to the player. The official RTP (return to player percentage) is 96.98%, and the maximum winning per single spin is 800 000 coins.
Personal testers opinion about Guns N Roses pokie
Guns N Roses pokie combines a lot of bonus features and bonuses. I suggest using "hit and run" strategy here. If you see a lot of bonus features and feel that it is "on the run" - do 50 - 70 backup spins not to miss the action.
Review and recommendations by the testing team
Guns N Roses pokie is a following of the Jimi Hendrix and Motorhead pokies series. It is not less bright and high-quality, and it has some potential with a big winning and exciting gameplay. This pokie has gained fans not only due to its colourful design, high-quality graphics and sound but also for the great potential of giving big winnings, not only in bonus features but also in the main game.
In the main game, the pokie quite often makes a series of spins without a win, or with a minimum win close to the main bet and this allows for a small loss in balance. But due to a large number of additional features, it not only compensates for the loss but gives an opportunity to win. The potential to win about 750x total bets is present not only in the bonus feature but also in the main one, for example, for a full screen of wild symbols. This possibility is not only in theory. At the same time, due to a large number of additional features, the pokie stably gives out wins of about 20x - 50x total bets, which is not bad, given the frequency and stability of triggering such combinations.
The wild symbol often appears on the reels during the main game, and considering its wild reel expansion feature, it often gives out not bad combinations from 5x to 50x total bets and doesn't exclude the potential of triggering 5 wild symbols with a win of 750x total bets.
The APPETITE FOR DESTRUCTION WILD feature is activated in the main game, on average 1 time in 150-250 spins. During its triggering, we receive a cross of wild symbols, and the final winning will depend on the symbols put next to it. The average winning is 20x - 60x total bets, but its potential is much higher, and during the tests, it was possible to get a winning of more than 150x total bets.
The LEGEND SPINS feature starts randomly during the main game and usually gives 3 free spins. During the first spin, we get 1 wild reel which does not bring epic winnings and, usually, it is a win of just a few bets. During the second spin, we get 2 wild reels on the 1st and 5th reels when wild symbols fall on the central reels, which in theory can give a bigger winning (up to 750x bets), but if this does not happen, then the winning will be minimal like for the first spin. During the third spin, the wild reels take up positions on the 2nd and 4th reels, while there is also a potential for triggering three additional wild symbols and a win of 750x bets. But if the pokie does not give them, then due to a more successful arrangement of wild reels, we will get an average winning of 20x - 60x total bets, although during the tests there were gaming sessions in which the third spin either didn't give out any win or gave more than 100x total bets.
The multiplier feature SOLO provides a multiplier from x4 to x10 for a win. Usually, this feature does not bring big wins and its average value is 3x - 6x total bets and it was only possible once to get a win of 160x total bets and several times 15x - 25x total bets for long-term testing.
The CROWD-PLEASER BONUS GAME feature is essentially a PICK and CLICK game. For opening one or another symbol, we get a win in coins, as well as the ability to get more free spins or multiplayer x2 if you win above the maximum specified value. In spite of the high potential of the bonus, it gives out rather average values of winning in the amount of 20x - 40x total bets. To get a multiplayer x2 or additional ENCORE FREE SPINS is rarely possible.
The ENCORE FREE SPINS feature gives 10 free spins, at each of which we get one Stacked wild symbol in the form of one of the musicians, and it also becomes a wild symbol on all the other reels (if triggered of course). The potential of this bonus is also quite large, while the average win is 50-150 bets.
The winning coins on the bonus wheel like in most games of this provider have a similar feature. Their minimum values are from 10x to 30x total bets, but they are not often triggered.
Due to the high potential, the common trigger, there are not high, but fairly good wins, as well as the possibility to receive large winnings from 500x total bets and above, this pokie is quite suitable for games with real money and less for bonus money. The recommended bet balance is from 150x total bets.
Hidden parameters and settings of Guns N Roses pokie (data from testing)
The frequency of triggering any of the bonus features (including mini) is statistically every 78th spin (1.28%).
The probability of a hit (any winning) is 38%.
Distribution of the winnings is 60% in the usual spins and 40% in the bonus features.
The maximum winning during the tests was 452x.
The average winning from the re-spin feature was 45x.
Volatility is 6,72 out of 20 (average).
Cycle length is average.
The rating of the pokie for the wagering is 4,53 out of 10.
RTP of 96,98% allows getting a positive mathematical expectation of winning at the casino.
Description of the pokie
Since the pokie is dedicated to the music band, it is designed with the theme of an outdoor concert. Thousands of fans fill the entire space under the blue sky, strewn with beige clouds, a dynamic, vibrant animation creates a stunning illusion of the reality of what is happening on the screen. There are numerous spotlights and pyrotechnics, and special effects scattered lights of fireworks. Graphic design theme and symbols are great - all are decorated with roses, and many images represent photographs of the band. Songs do not stop playing for a single minute - they are a continuous cascade and music fans of this style, probably will have a lot of fun.
Specifications
Number of reels - 5
Number of pay lines - 20 (always active)
The cost of a coin - from 0.01 to 1
Number of coins per line - 1 to 10
The range of the size of bets - from 0.20 to 200
Maximum winning – x750 (5 symbols with the image of the soloist of the band)
Wild symbol - yes (a logo of legendary band and Appetite for Destruction Wild which doubles winnings)
Scatter - yes (Vinyl)
Free spins - yes (the number of free games and the multiplier defines a prize-winning round)
Bonus game - yes (three scatters to launch the bonus game "Fortuna's Wheel).
The RTP is 96.98%
How to win at Guns N Roses pokie? (conclusion)
Our main recommendation in this paragraph for each pokie (especially from NetEnt) is to test in demo mode before starting to play with real money. Another recommendation that may be useful to you is to use the "Hit and Run" strategy - this means changing the pokie after a good winning. If you think it is "hot", however, we recommend you make some more spins for luck (50-70). Honestly, the game is quite enjoyable and full of bonus features, we can advise playing with real money. Another can be said to wager the bonus requirements. And again, it's not the perfect pokie for bonus hunters, but if it's in the "mood" to give money, you will be able to win some good money. The recommended bets balance is 150.