Details

Written by

Kamen Valev
Last Updated: Friday, 13 August 2021 17:36
Jingle Spin pokie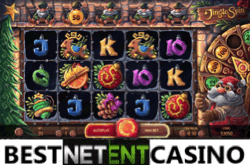 The most family, warm and joyful holiday is Christmas from NetEnt. Everyone is waiting for a lot of miracles. We believe that this Christmas night fulfils all our desires. Children are especially waiting for this holiday because Santa Claus brings a lot of different gifts. But this time, adults will also get their gifts with the help of a new game. The Netent company launched a continuation of Eggomatic pokie. It is called
Jingle Spin pokie
. During this game process, you are being waited for the Christmas elf with the best gifts. Meet the main hero, who throws wild symbols on our reels. Here you can win up to 50 free spins.
This playing field is represented by 5 reels with 3 rows of symbols. There are assistants of father's elf, who catch presents from a wheel of fortune above each reel. By the way, this wheel is located to the right of the playing field. It spins and transfers winnings to its assistants in every spin. There are 20 fixed lines and RTP, which is equal to 96.48%. The maximum payment will reach up to 94 750 coins only if the highest stake of 100 coins is valid here.
Feedback of the tester about Jingle spin pokie
Soon Netent company will please its punters with the new pokie from a series about Christmas and this time Eggomatic machine was taken as the basis.
This is a colourful and funny pokie with a nice design and a pleasant musical accompaniment. But in my opinion, after its release, this pokie will immediately disappoint most players. The behaviour of this pokie is similar to the behaviour of the Eggomatic machine. I would like to remind you that it rarely gives out additional prizes from the wheel and they are often small.
During my testing, gnomes often sat empty-handed. When they had the additional winnings, their value was only 2x – 5x total bets, less often it was 10x total bets, although we see the prizes up to 125x total bets in this wheel, the winnings rarely reach them.
As for free spins, they don't appear very often. It can be 7 – 12 spins, although this wheel has the prizes with 50 free spins. I managed to get only 12 free spins with the winning of less than 50x total bets during my testing. Of course, this pokie will give out the maximum prizes, but it will be extremely rare here. In my opinion, a disadvantage was the fact that the punter sees only this wheel and, accordingly, the prizes that pass by him. Eggomatic pokie does not have this disadvantage.
In my opinion, the Netent company created this pokie to take away the players` money. At the same time, the developers did not waste a lot of time creating it, and they just made another Christmas copy. Frankly speaking, I was disappointed.
Alternative tester's opinion
While developing this pokie, NetEnt specialists did not come up with something new and created another clone of Eggomatic pokie into the Christmas version. At the same time, the gameplay and the behaviour remained unchanged, i.e. in this pokie, exactly the same algorithms and mathematical solutions were applied.
The average win in the usual spins varies from 0.25x to just a few bets, which does not allow keeping a good balance, due to the quite large number of spins without payment combinations. Rather a rare triggering of more expensive combinations costing from 10x to 30x bets, often, does not cover the loss of balance. At the same time, the pokie still compensates for the loss of balance by issuing additional winnings from Christmas balls.
Despite the fact that sometimes we see quite expensive prizes in the wheel, up to 125x bets, often only prizes of 2.5x, 5x and 10x are given out, but most of the winnings are 5x total bets.
Balls with free are rare in the usual spins, while the pokie shows from 7 to 50 free spins, the issuance of balls with 20 - 50 spins practically don't occur, and the average number of free spins is 10 - 12. But additional free spins during the bonus game are often, and sometimes the ball with additional spins can be obtained several times.
The payment combinations during free spins do not differ from the winnings in the usual spins, with the difference only in more frequent receiving additional prizes with coins in the balls. You can get a big win only when wild symbols are in a ball, and only if it is well-positioned. Such combinations on average bring a win of about 100x total bets. The average winning during free spins without a wild symbol is 30x – 40x.
The average win during free spins, with a wild symbol and its successful location, is 140x – 160x total bets. It is possible to get more than 200x if the wild symbol in a ball gets to place 2-3 times, which happens extremely rarely.
In my opinion, on a long-distance the pokie is negative and, accordingly, is not suitable for such game, since it's almost not able to compensate for the loss of balance in the amount of 300x – 400x bets. Despite the illusion from the first spins that is keeping the balance, the pokie changes its behaviour and is able to reduce the balance to 0, so personally, I would not try to fulfil the wager requirements on it. While playing with real money, I personally prefer short game sessions before triggering a big win with a wild symbol, or free spins, and if they are missing, leave the pokie after 50 - 80 spins.
Personal tester's opinion
Netent, as always, knows how to please its fans. The game is far from new but still is interesting to play. The meaning of the pokie is that you make the spin, and a mini-wheel with various prizes will be spinning to the right, if the arrow hits the prize, it goes up to the 5th reel, with each next spin it will move to the left. The main thing is that is on the reels is the wild symbol and there is the prize on the top, you are getting this prize as the winning. Here, as in any pokie, in which there is no separate bonus game, all interesting wins occur only with the help of an additional bonus feature. Without them, winnings are rare and small. Of course, there are still free spins, where there will be always balls with prizes on top. I am sure that fans of Netent will really like this pokie.
Bonus features
Wild symbol replaces all symbols. The wild symbol also triggers the "Christmas Ball" feature if they are on the same reel.
Christmas balls contain 4 different prizes: spreading wild, free spins, cash prizes and a surprise ball.
"Spreading wild". A few wild symbols will be in the neighbouring cells, which will help to form a higher combination.
"Free Spins". You can win 7, 10, 12, 15, 20, 25, 30 or even 50 free spins. During free spins, Christmas balls with prizes will be always added. Free spins can be extended.
"Cash Prizes". You can get 50, 100, 200, 500, 1000 or 2 500 coins.
"Ball-Surprise." It can transform into any of the balls explained above.
Symbols and payments
This game has 20 always active pay lines. You can put up to 5 coins on each line. It means that the maximum stake reaches up to 100 coins. At least 3 identical symbols give out the winnings. We will tell you about all the rewards only after the shot's release.
Christmas wheel of Elf
You will see the special wheel that spins in each spin on your screen.
There are a lot of different rewards in their sectors.
It can be the additional symbols, coins, free spins, bonus features and empty cells.
All these prizes are given to our assistants that are sitting above the playing field.
If Gift wrap symbol appears on the reel, where you can see this assistant with the prize, the punter will get his reward.
So, you can win up to 125 total stakes, get blocks of wild symbols and other functions.
If you win free spins, you will get from 7 to 50 spins. There are not any empty seats on the wheel of fortune in this mode.
Settings
Provider – NetEnt.
Volatility – average.
Pay lines – 20 (fixed).
Reels – 5.
The available stakes are 0.20 – 100.
The maximum multiplier is x1000.
The biggest reward is 94 750 coins.
Bonuses – Wheel of Fortune that is active in each spin.
The RTP (return to player percentage) is 96.48%.
Where to play?
The best place to launch Jingle Spin pokie for free or real money is Fastpay casino, а 100% trusted gambling site. They will send the money to your payment system super-fast (1-5 minutes), and you will be pleased by the rich choice of casino games they have (over 5000).
You may also like the following pokies in Fun mode