Details

Written by

Vladislav Dibrov
Last Updated: Thursday, 04 March 2021 19:32
Lights pokie
Do you like Wild symbols? If you do, then you will love the new game from Netent. Lights pokie was launched on May 20 of 2014. On this page, you will find hidden data (volatility, wagering rating, testers review), and you can play for free the demo version without registration. The RTP (return to player percentage) is set at 96.1%, and the maximum winning is up to 90,000 coins.
Personal testers opinion about Lights pokie
I like pokie with less number of lines. There you can win more, risk lesser. Here, the potential of winning is higher. We suggest punters use smaller stakes here and to have money on more spins. Lights pokie has scored less than 5 points in wagering rating. The probability of triggering "the free spins feature" is 0.65% (every 154th spin). The frequency of hitting any win is equal to 28.86%. During the real money tests, my biggest win was 265x total bets. There was an impression that the pokie "likes" the A$10 stakes. The indirect sign of the "mood" is how many wild symbols are generated and their position during the free spins feature. Please note, that with the increasing bets level behaviour can be completely different.
Review and recommendations from the testing team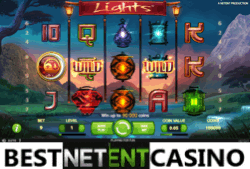 At first sight, and judging by the graphics, this is a fairly standard pokie, a typical one from this provider, but after the first spin, the pokie issued a wild symbol.
In this pokie, the symbols are given out in a line, which, together with the wild symbols, can give a fairly big win. Considering that all this happens in every spin in the main game, the pokie has the potential to give a huge winning.
Despite this, for some reasons is not very popular among punters.
Payouts for winning combinations of three or four symbols are quite small in this pokie, but big for combinations of five top symbols. This is the case in many other pokies of this provider.
Quite often the Wild symbols fall exactly on the necessary positions, bringing big winnings.
Triggering the free spins feature occurs here more often, in contrast to other pokies, there are no large intervals.
In the feature, there are a higher number of wild symbols falling on the reels. During testing, a bonus was triggered in the first 50-70 spins, and two full lines of wild symbols were issued on the first free spin, which brought a super big winning. They were also game sessions, where the pokie gave out a full screen of top symbols.
In sum, this pokie is recommended mostly for real money, and not so much with bonus but still, if it is in "Hot mood" you can try to wager the requirements. It is also recommended having a bet balance of at least 150-200 bets.
Netent declares the following probabilities
The total RTP (return to player percentage) is 96.1%. Of these, 71.7% during usual spins and 24.4% during the bonus free spins feature.
The probability of getting any winning is 29.3%.
The probability to get 3+ scatters and triggering the bonus free spins feature is 0.54%.
The maximum winnings are 90,000 coins.
Hidden parameters and settings of Lights pokie (data from testing)
The frequency of triggering the bonus is statistically every 154th spin (0,65%). This number is in the middle line.
The probability of a hit (any winning) is 28,86%. Here players will get winnings rarely.
The distribution of the winnings is 64% in the main game and 36% in the bonus. Note, that this number differs a lot from Netent's official figures.
The maximum payout during the tests was 265x. This is the average number for an online pokie with a 7,41 volatility rating.
The average winning from the bonus was 76x. The bonus feature gives more money than usual. Maybe that is the reason for the low maximum winning.
Volatility is 7,41 out of 20 (average). This number shows that Lights pokie should have a high potential of winning. There is a reason to use the progressive betting system and to increase stakes in losing waves.
Cycle length is from average to long.
The rating for the wagering is 4,56 out of 10.
RTP of 96.1% allows getting a positive mathematical expectation of winning at the casino.
The free spins feature
If there are three scatters dropping on the field, the free spins feature with an increased number of generated Wild will start. The location of the scatter does not matter.
If you catch 3 scatters, you get ten free spins.
Over the 4 you will get 20 spins.
If you are lucky enough to catch 5, then 30 free spins will launch.
During all free spins, you will receive an increased number of generated wilds in the field (up to 6).
How to win at Lights pokie? (conclusion)
Like any other NetEnt pokies, our hottest recommendations are to test it in a demo mode before you start playing real money (to understand if it's hot or cold). Keep in mind that it is not very popular and will often be "cold" with an empty prize pool. However, there is great potential, and if you "catch" it in a "positive mood", it can bring you pretty good winnings. Your primary goal must be to activate free spins, there is the greatest potential of the pokie. Try bets that are multiples of 10 (and especially A$ 10). A good strategy - in the bonus, watch where and how many "Wild" symbols are dropped, if it's "hot" you will definitely understand. Know that when changing the bet (maybe) you can change your "behaviour", this strategy will be useful to you if you are in a negative series of spins. For the bonus "hunters", we can give more negative recommendations than positive, but it's definitely not the worst for scoring bonus money. However, the comments are neutral to us. We wish you luck !!!
Where to play?
The best place to launch Lights pokie for free or real money is Fastpay casino, а 100% trusted gambling site. They will send the money to your payment system super-fast (1-5 minutes), and you will be pleased by the rich choice of casino games they have (over 5000).
You may also like the following pokies in Fun mode