Details

Written by

Vladislav Dibrov
Last Updated: Monday, 19 December 2022 20:55
Reel Rush pokie
The Netent team launched Reel Rush pokie. The main idea here is - every new winning in a row creates more winning lines, and the free spins feature is starting if a punter can win 5 times in a row. The RTP (return to player percentage) is 97%, and the maximum winning per single spin can be up to 480 000 coins. It has an average cycle and volatility of the winning. Note, that in 2016 NetEnt launched the clone of this pokie in a new design. It is - When Pigs Fly.
Personal testers opinion about Reel Rush pokie
Reel Rush seems such an exciting and unusual machine, which has a clone already - When Pigs Fly pokie. I advise you to play only with small stakes (up to A$10). Usually, this pokie is showing its mood from the beginning. If you see a lot of situations when it is just putting unlucky symbols on the third reel to stick the pay line, you better skip it. Statistically, the bonus free spins feature triggering every 80th spin (1,25%), and 55% of the pool is reserved for pay-out in it. The trap is that if you cannot trigger the free spins feature you will lose 40% of your bets. So, try to test the pokie on 50-70 spins with the small stakes to understand if it's "hot" or not. During the tests, the average winning from the free spins feature was 46x. During the usual spins, the hit (any winning) probability is 28.20%. Do not stick here - it is dangerous. If you cannot win - leave it. The losing "waves" can be very long. If you like such pokies - try to play Valley of Gods by Yggdrasil.
Review and recommendations from the testing team
Reel Rush has good gameplay but also has a children's theme.
In the main game, the pokie keeps the balance not so bad, only from time to time compensating for the losses with opening additional cells and good matching the combinations.
The free spins feature is triggered for 5 winnings in a row, and it is not rare that the pokie stops the winning spins on the last step (before the bonus game). It bothers a lot.
Free spins feature, like in most pokies of this provider, are triggered in a series with a large interval between the series, usually, during testing, there were a series of two or four free spins features almost in a row and then a long break.
If we consider the feature itself, due to a big number of lines, the potential of the pokie is huge. In theory, during free spins, a huge win (for NetEnt) is possible. In practice, the average value of a successful feature is about 100x total bets. An 80% of free spins features gives an average winning of 30x - 60x total bets.
This pokie is not recommended for long gaming sessions with bonus money, but you can make about 100-150 spins on it to get a series of bonuses. A similar recommendation would be given when it comes to playing with real money.
The Netent declares the following probabilities
The total percentage of payout is 97%. It consists of payments in the primary (58.8%) spins and bonus (38.2%).
The probability of breaking any winnings in the usual spins is 28.3%. In bonus games (1024 pay lines) is 70%.
The probability of getting free spins (win five times in a row) is 1.16%, which is twice as high as the average values in the line of Netent.
The maximum winning is 480 000 coins.
Hidden parameters and settings of Reel Rush pokie (data from testing)
The frequency of triggering the bonus is statistically every 80th spins (1,25%). This number is fitting Netent's official declared data and is twice higher than the middle line of all Netent pokies. Note, that the free spins feature is triggered with "waves" here. Sometimes you will see 2-5 features in 200 spins and then it can be 1000+ spins without any feature. Do not stick here if losing.
The probability of a hit (any winning) is 28,20%. This number is slightly below the middle line. This number is collected from all line winnings. We do not have the probabilities data on each separate step.
The distribution of the winnings is 45% in the main game and 55% in the bonus free spins feature. This number is duffers from the Netent's official data (59/38).
The maximum payout during the tests was 170x.
The average winning from the bonus was 46x. The free spins feature in Reel Rush carries a low potential of winning.
Volatility is 6,06 out of 20 (average).
Cycle length is average.
The rating for the wagering is 5,71 out of 10.
RTP of 97% allows getting a positive mathematical expectation of winning at the casino.
Description of the pokie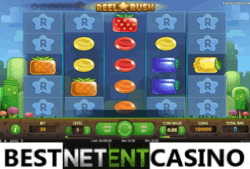 Do you like sweets? This question is not only for women, but males also probably will respond positively. NetEnt created the Reel Rush pokie that repeats the fruit and candy theme, yet is radically different from previous developments. It has not only an eye-catching interface but also the creativity of technical design. Well, beautiful ladies, of course, still appreciate the fact that even such an abundance of sweets bearing good financial satisfaction will not lead to a set of extra calories.
Free spins feature
Now let`s talk about the most pleasant. Of course, about the free spins feature. You will get eight free spins at the maximum open field with 3125 ways of winning. The chances of big winning are increased tenfold. To get free spins - it is necessary to collect any pay combination 5 times in a row. In other words, if you win 5 times in a row, you get eight free spins with the maximum possible active lines.
How to win at Reel Rush pokie? (Conclusion)
We believe NetEnt's pokies behaviour is similar in both demo mode and real money play. That's why we strongly recommend you test this pokie in demo mode before deposit. Very often this machine shows the "mood" from the very beginning of your session. If it is "hot" you will understand, as it will trigger free spins. A sign of a "cold" pokie is if on the third reel doesn't fall symbols which will make a winning combination. We do not recommend playing here for a very long time. Make 100 to 150 spins and decide whether to continue. Try playing small bets (up to 10 AUD). For bonus money play, the recommendations are similar - you can try to fulfil the bonus requirements, but do not spin for a very long time.
Where to play?
The best Australian online casino to play Reel Rush pokie is Fastpay, а 100% trusted operator. Moreover, they will send the money super-fast (1-5 minutes), with no-hassle withdrawals and will provide excellent customer service.
You may also like the following pokies in Fun mode