Pokies from Red Rake Gaming 2023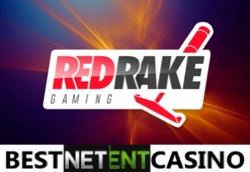 The Spanish developer
Red Rake Gaming started its work in the gambling market in 2011
. A couple of years later, the provider released high-quality online casino software. Today, the company's portfolio of games includes about 50 pokies, as well as bingo, video poker, blackjack, roulette and other games.
The team employs 40 highly qualified specialists from various industries. And although the company is not yet included in the top 10 global gambling software manufacturers, it is still popular. She is especially recognizable on social networks, where the brand's products are more common.
Logo
Name
(Play in the demo)
Percentage
(RTP)
Volatility
(Dispersion)

1st of The Irish
95.4%
average to high

3 Butterflies
95.6%
-

777 Heist
95.37%
average

Alchemy Ways
95.3%
average to high

Bonnie & Clyde
95.1%
-

Cai Shen 88
95.3%
average

Diamond Cascade
95.4%
average

Eastern Goddesses
96%
-

Electric Sevens
95.3%
-

Flamingo Paradise
95.3%
average

Fruits 'n' Jars
95.3%
average

Gustav Minebuster
95.5%
high

Heidi at the Oktoberfest
94.9%
-

Hot & Win
95.4%
-

Jack O'Lantern vs The Headless Horseman
95.6%
high

Judges Rule The Show!
95.3%
-

Knights
95.3%
-

Lady Forest
96%
high

Longmu and the Dragons
95.4%
average

Lorelei's Pearls
95.4%
average

Magic Wilds
95.3%
-

Maya
95.5%
-

Max Dangerous and the Lost Relics
95.3%
high

Medusa Hunt
95.3%
average

Mega Stellar
95%
-

Million 7
95.3%
-



Million 88
95.3%
low to average

Million 777
95.3%
average

Million Dracula
95.3%
average to high

Million Dracula 2
95.3%
high

Million Zeus
96%
high

Mother of Horus

95.3%
average

Myrtle, The Witch
95%
-

Mysteries of Egypt

95.49%

-

Mystic Lady
95.2%
high

Nefertiti's Riches
95.3%
average to high

Queens and Diamonds
95.4%
-

O'Bryans' Funland
95.3%
average

Parrot Bay
95.3%
average to high

Ragin´ Buffalo
94.99%
-

Red Dragon VS Blue Dragon
94.7%
-

Respins & Diamonds

95.3%

-

Ryan O´Bryan and the Celtic Fairies

95.4%

-

Secrets of The Temple
95.3%
average

Siberian Wolf

94.4%

-

Speed Heroes
95.1%
-

Solomon The King
95.3%
high

Super 5 Stars
95.4%
-

Super 7 Stars

95.9%

-

Super 10 Stars
94.6%
-

Super 12 Stars
95.3%
-

Super 15 Stars
95.3%
low to average

Super 20 Stars
95.4%
low to average

The Adventures of Ali Baba

95.5%

-

The Asp of Cleopatra
95.3%
-

The Legendary Red Dragon

94.97%

-

The Secret of The Opera

95.6%

-

The Travels of Marco
95.3%
-

Tiger and Dragon
95.3%
-

Tommy Gun's Vendetta
95.3%
-
Twin Harlequin

95.2%

-

Viva Las Vegas
95.2%
-

Ways of the Samurai
95.4%
average to high

Wild Animals
95.3%
average

Wildcano
96.3%
-
Features of Red Rake Gaming software
The variety of genres of pokies will delight all players, so everyone can choose the most interesting version of the game. True, the provider's imagination is somewhat restrained, so you shouldn't expect unusual themes or designs. Basically, pokies are dedicated to historical events, films or fruits.
It should be said about the use of an original approach to the design of the playing field. After all, it is Red Rake that can be called the pioneer and creator of the pokie with orbital reels (Wildcano pokie).
Multi-currency and multi-platform games are another advantage of the developer, thanks to which the popularity of Red Rake Gaming software among both casino operators and players is growing.
The developer is generous with bonuses, which are represented by free spins, bonus rounds, special features and symbols. By the way, in several pokies, the additional multiplier for winning in free spins can reach x60.
The accumulative jackpot system, to which some pokies are connected, will make it possible to hit a jackpot of 1,000,000 or more coins.
The theoretical return to player bets ranges from 92% to 97%. But most of the games are endowed with an RTP that does not exceed the 95% mark.
About Red Rake Gaming
The company's online pokies are found in virtual casinos and social networks, where they are most popular. According to the provider, the audience of players is more than 15 million people from more than 100 countries. Of course, these are not the coolest indicators, but they are still worthy of respect. The company regularly takes part in exhibitions and conferences dedicated to gambling. All software is tested by the independent BMM Spain Tastlabs laboratory, and the developer's activities are regulated by the Malta and UK gambling commissions. By the way, they are the most reliable regulators.