Details

Written by

Kamen Valev
Last Updated: Wednesday, 11 January 2023 17:32
Top Slots by Leander Games 2023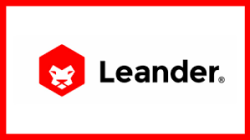 Leander Games, owned by Xterra gaming, is a company based in the Bahamas that was founded and established in 2008/2009 which has about 50 slots. The games are also in real money online casinos (
our top recommended is Fastpay Casino
) and land-based casinos.
Leander Games was founded with professionals in diverse areas to create innovative and creative games. They are known to have superb animations and cool bonus features. Leander games amongst all are known for its simplicity, fun and awesome graphics games. It is best known for providing amazing real-time experience with players online.
Leander Games also have a platform aside from platforms provided by casinos which allows gamers to play free mode to see what the game feels like before actually playing with real money.
With a lot of competitors around, Leander Games' platform remains popular mainly because of its business-like approach to the promotion of the company's product. Leander Games' online slots are trendy as they use features from popular movies such as Game of Thrones, Snow White, and Aladdin. Next articles may be very useful if you want more winnings in the casino:
Next is our list of the top slot by Leander Games 2023:
Are you a lover of Game of Thrones? If so you are going to love this game just because of the dragon, which looks exactly like the one in the movie. The artwork of the dragons in this game was done by an Argentine man named Ciruelo Cabral who believed in the existence of a dragon as being special. The game is a 5 by 3 reel slot, which makes the chances of winning average. What is most fascinating about the game is the dragon fire that pours out when a yellow fire dragon card turns out on the reel plus winning a few cents. Dragon slot has an RTP (return to player percentage) of 95.07%.
The bonus feature takes place when three knight symbols appear on one reel. There is also the dragon's fight bonus which occurs when three of the twin dragons appear on a reel, then a battle between a white dragon and a red dragon commences. Defeating the opposing dragon (red dragon) increases your chances of winning.
For those who love fantasy and fairytale! As the name implies, the games are a representation of the movie Snow White and the Seven Dwarfs and other related movies such as Mirror Mirror. The game is a 5 by 3 reel slot with 8 symbols based on the characters in Snow White movies such as the queen, and the seven dwarfs. Seven Lucky Dwarfs has an RTP of 95.31% and the chances of hitting a bonus are higher.
The bonus icon which represents the snow-white house is numerous. Mirror mirror bonus has the effect of copying reels if they are found on reels 1, 4 and 5, hence increasing the chances of winning. Five free spins are given in this bonus feature; if Snow white comes out from the left-hand side, she freezes the countdown; which enables the spin to continue until she disappears and the countdown restarts. At the end of this scene, you get to pick a dwarf who determines the total win.
This game is a complete representation of Halloween. It is a 5 by 3 reel playing field slot. In the game, a witch watches over the whole slot from the left-hand side with a bright full moon in the background. The major symbols in this game are that of kids dressed up in frightening Halloween costumes such as werewolf, vampire, cat, and skeleton. Trick or treat is a well-designed slot with awesome graphics. It has an RTP of 97.17%.
One of the bonuses includes the witch picking any spin and turns two of the reels which help in winning bigger. Another is the creepy candy free spin bonus which is done by having three of the apple symbol in any of reels 1, 3 and 5 which gives seven free spins.
This online slot game is a complete replica of any zombie movie you have ever seen. The game is a 5 by 3 reel slot with an apocalyptic scene as its background. The backdrop of the game is of buildings ruin and a zombie hunter. The symbols related to the games are zombies of different sexes, a heap of pumpkin, a tasty brain, weapons, and warning signs. The zombie rush slot is best known for its Halloween atmosphere. It has an RTP of 94.89%
One of the bonus features occurs when a wild symbol is directly above a zombie symbol which allows for reevaluation. Another bonus contains a combo of 2 to 4 matching symbols which allow a chance to be awarded a free re-spin in the hope of winning a bigger prize. Also, a bonus whereby a door symbol appears on reels 2, 3 and 4; you will be faced with several doors to pick one which will either give a prize or a key to the next zone.
This online game tells a story of the famous Ali Baba and the forty thieves. It is a well-designed game with nice graphics and sound effects. The background of the game is a desert oasis. The symbols include a camel, a snake, a dagger, a drum a monkey, Ali Baba, and the thieves. This game allows for bet as low as £0.01 pounds for one spin with a possible stake of £300.00 per spin.
One of the bonus features occurs by spinning three of the bonus urns on reels 2, 3 and 4; an award given for this bonus feature ranges from one to three Ali protections. Ali protection gives an extra life. Another bonus occurs when the free spins symbols land on reels 1, 3 and 5; given a chance to pick your risk ranging from low risk, fewer spins and lower multipliers to high risks, more spins and higher multipliers.
Conclusion
Leander Games have done justice by describing its mission "great graphics, excellent animations, super exciting mathematics, and hyper-attractive concepts", and the slots reviewed conform to that standard.
Where to play?
Fastpay casino has a rich choice of casino games, over 5000 games, including Leander Games in their portfolio, the top casino on our site. Moreover, they will send the money super-fast (1-5 minutes).