Details

Written by

Vladislav Dibrov
Last Updated: Thursday, 12 January 2023 10:28
Best online casinos deal for high-rollers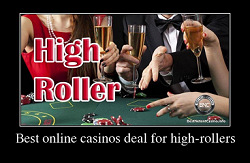 This article will be interesting for VIP players (high-rollers) and players who use progressive betting systems. We will try to highlight the best online casinos deals for high-rolling. Please note that each casino has the right to set own maximum bet limits for any game and have different withdrawal limits (monthly, daily and weekly). For example, at the Guts casino, the maximum bet on the Gonzo's Quest slot is €50. The maximum rates limit on the same slot in the
Royal Panda
is €200 per spin.
A list of the best online casinos for high-rollers 2023
Online slots that are good for high-rolling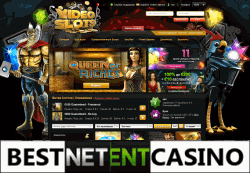 Let's highlight main online slots that are good for high-rolling and have high RTP (the list is sorted from more favourable to less). We suggest the usage of "hit and run" strategy when high-rolling. Just close each of slots after hitting a big win and move to next. The reason is that the prize-pool usually do not have enough money to give several big winning in the same high stakes session:
We suggest high-rollers to test slot machines in free mode before switching on real money. It will allow you to know exactly what slot to open and what stakes to use. The second variant is to do "pre-test" on minimum bets. Like you do 100 spins via minimum bet and look on the activity and result. If there is a lot of action and winnings - continue via middle and high stakes - if no - start to test the next online slot.
High-rolling and bonus money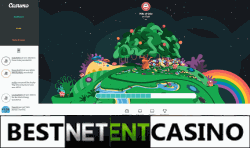 Please note, in many online casinos with an active bonus the maximum stake per spin is limited (usually from €5 up to €10 per spin). The exception is Videoslots casino, where bonuses are not "sticky" and are added to the player's balance after completing the wagering requirements. In this case, the player is not limited in stakes, and the active bonus does not impose any restrictions on the withdrawals of winning.
Step by step guide for choosing the best deal for high-rolling
Let's imagine that you are a high-roller. Below we provide a step-by-step guide to our vision of maximising chances to hit a big win in online casinos and to choose the best online casino deal.
Select one of the best online casinos listed in the table and register the account. Be sure that the gambling site fits your payment method, has a high "trust" rating and payout limits are acceptable.
Send documents for account verification before making the first deposit and wait for their approval. If the stakes are huge, any casino will ask the player to verify your account. Needed: a passport, bank statement or phone (gas, electricity) bill not older than three months and a photo of the credit card (if we use it). An online casino can require a screenshot of your e-wallet (if you are using it for deposits).
After sending of documents, the player should write a letter (or chat) to support asking to verify the account. Better to do it before making any deposit. The procedure will be much faster, will save your nerves and protect you from delays of payment if you will hit a big win.
Choose a slot that fits your bankroll from the list of all casino games and explores their hidden data: volatility, the probability of hit, and triggering the bonus feature.
It will be safer to check out the lists of slots cycles and dispersion (variance). It is essential to understand if we are playing via maximum stakes, slots with a long cycle will need much more money to "survive" until the next big winning comes than short cycle. But long ones have much more potential of giving 200x+.
Read the article about choosing the slot machine which is ready to pay and begin testing in free mode. It is advisable to select 2-3 games. It is much better to have a list of slots than to open random ones (especially during high-rolling).
Don't return to the slot that already has a big win in the current session for real money.
Try to make a screenshot of hits and do a screenshot of your cash-out. Hopefully, you shouldn't need them, but if something goes wrong - they will help you a lot.
Remember: If you're gambling via maximum stakes (high-rolling) you should choose time-tested online casinos that will withdraw any amount without delays and additional problems.
Where to play?
Playing at Fastpay casino, you can be sure about your money, 100% trust. Moreover, after you request a withdrawal, they will send the money within a few minutes (up to 5). Their Vip bonus program for the loyal player is one of the best in the online gambling market.