Details

Written by

Vladislav Dibrov
Last Updated: Thursday, 12 January 2023 10:28
Is it worth to start playing at the casino?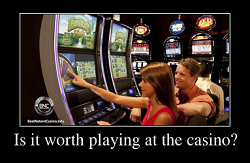 Today I would like to describe all the pluses and minuses of gambling for money and answer the question: "Should I start playing at the casino?". Many people will say that playing at the casino leads to losing money, but it is not so simple. What can you say about the hard drugs? Do they cause physical dependence? Probably yes, but much sooner comes the psychological addiction.
One of my friends, who had to take in this reality, told me: "You don't understand... the brain creates a different reality where you are God and all your wishes immediately come true. And you don't want to go back to the real world where everything is grey and dull. Life, in reality, is only an unfortunate necessity. A break from one dose to the next...".
Many people live their normal lives, and they are quite happy with it. Or maybe they have nothing to compare?
The dull reality and the bright flashes
You are in the comfort zone while you are busy by sitting your eight to ten hours in the office or doing other retail routines. If you have to play a game of chance for money, everything changes. Remember that if you win money, then it's too late to ask the question is it worth playing at the casino - you are already addicted. In the formation of a new model of behaviour and a new attitude towards money, several parameters are involved:
The adrenaline addiction. The vivid emotions that we so rarely experience in everyday life are in the wild of concentration that the brain is just off the charts. The nervous system is tense to the limit. You are ascending to the stars (a good bonus game, a big win), then throwing in the thorns (the loss of almost entire balance).
In turn, the protective reflexes of our mind erase the most striking negative emotions from memory, and it turns out that you only remember the big wins.
The disregard for the money. Remember that it doesn't matter how much money you have. For different thicknesses of wallets in the slots, different betting limits are created. The poor people can play 20 cents per spin, and the rich people - €400 per spin. Even if you feel that you are in control and will only play for a little - for 95% of people, it is a road to nowhere. The rate should be relevant to you to obtain strong emotions. Otherwise, the adrenaline will be absent. This will inevitably lead to higher stakes and amounts of giving away money. How will you relate to this job if you lose and win 10 of their monthly wages? Of course, you will have to wait when you can start playing.
A different selection of the games. This trap is designed to catch those players who for some reason, don't play the standard slots. This is roulette, poker, blackjack and even casino against live dealers for these players. Let's see how much effort is put by the casino to get you to play.
The feeling of revenge. Do you think that in the process you ever stop playing? This is not so. You will wait for a win from the slot, waiting for returning more money than it took. The paradox of addiction is if you are winning, you want to earn more, and while losing, you continue to recharge, to recoup".
A philosophical attitude and self-justification. In the end, you give up and try to justify yourself thinking it is still better than to sit in the office all day.
So, it is worth playing at the casino or not?
Since we began our article with a story about drugs, let's take this analogy further. Tell me: "Should I start taking drugs?". You are not afraid of trying something unlikely to be able to control. That may overwhelm you and dominate your whole life. The casino is all the same. It will be a good life, but it will have to pay very dearly. Notice that about 5% of people are not prone to excitement and of course, 100% at the beginning itself, believe that they are from this 5 %. We are all elected, one by one. After reading this article, tell me, please: "Should I start playing casino?". If you decide that it's worth it, click on the following link and choose the institution in which won't have problems with the payments:
Where to play?
If you want to start playing, at least choose the best option - Fastpay casino has 100% trust from us. Moreover, they have over 5000 games in their portfolio and one of the best in the world VIP bonus programs.