Details

Written by

Vladislav Dibrov
Last Updated: Tuesday, 12 April 2022 07:39
Free Classic Blackjack from NetEnt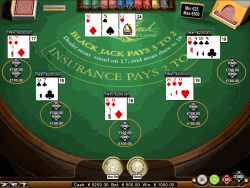 Classic Blackjack game is popular among players of different experiences, income, and age. Without a doubt, it is a leader in the gambling world, and it competes only with poker. The reason for its high popularity lies in its simplicity and unpredictability of results. All casinos, offline, online and mobile, offer Blackjack in their game selections. Moreover, Blackjack also has several different variants, and a wide gaming choice can be found at online casinos.
Also, they allow players to play Blackjack for free without registration. This is very useful for players who want to familiarise themselves with the game, learn how to play it, and practice gaming strategies. The free play mode is also suitable for players who wish to test their skills after a long break. Play blackjack for fun on top of our page.
Play Free Classic Blackjack from Netent
Play blackjack for fun is outdated regarding design and gameplay. Although the gaming process works perfectly, the graphics and sound are not up-to-date. The main difference between Classic Blackjack and the other more advanced versions is the possibility to play up to five hands at the same time in the newer variants. Players, can double down, split cards and use insurance. However, surrender is not provided.
Main features of the classic blackjack free
The minimum (maximum) number of hands in the game - 1-5
Split - yes
Double - yes
Insurance - yes
Surrender - no
Minimum bet - €1
Maximum bet - €500
RTP percentage - 99.6%
Rules of classic blackjack free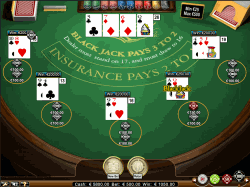 Blackjack is also called 21. The player's objective is to get as close as possible to a hand value of 21 before the dealer or have the dealer bust, i.e. go over 21. The game starts with the player placing his bet. Then both the dealer and player get two cards. Based on the total from him, the player decides whether to draw more cards, stand, split cards, or double down. The game is played with six to eight decks of playing cards, and they are often shuffled before each hand. Cards from 2 to 10 have their value shown on their face; Kings, Queens, and Jacks are counted as 10, while Ace can be counted as either 1 or 11. The main winning combination is a hand comprised of a pair of 10s with Ace. This is called natural Blackjack, and it os the most desired combination of cards everyone hopes to get. Know more about
blackjack rules
.
How to play the game
As previously mentioned, the dealer deals two cards to himself and the player. If you are not satisfied with the first two cards, you can ask for more cards, or you can stand. You can also decide to split cards or, if you're satisfied, you can double down. The idea is to get as close as possible to 21 without busting.
If the total value of your cards is closer to 21 than the dealer, you win. If the amount is less than the dealer's total or you go over 21, you lose.
The dealer will always take another card up to a hand total of 17.
If the dealer busts, you win with any number of points. If you and the dealer have the same hand value, then it's a push, and no one wins.
You can read the detailed rules of blackjack here.
How to win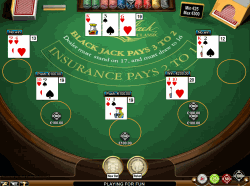 There is a separate section on our website where players can learn more about how to increase their chances of
winning in blackjack
. Carefully read the following materials and test the game for free in the demo mode at the beginning of this page:
Payouts
If you win a hand, you get the same amount as your bet. For example, you bet $10, and you win $10. However, if you win with a natural Blackjack, you are paid at a 150% rate. For instance, if you have bet $10, you win $15.
Doubling (double down). The player can double his bet if the sum of the first two cards is not equal to 21.
Split cards. If the player is dealt with two cards of the same value, for example, two 8s or two 6s, he can split the cards and play two hands. In this case, if the player gets a combination of a 10-valued card and Ace, the hand is not considered as blackjack and pays 1 to 1.
Insurance. If the dealer's first card is Ace, the player can place an insurance bet – Add half of his stake to his initial bet. The winner will be 2 to 1 in the case when the second card of the dealer is 10. In all other cases, the player loses.
Feedback
We enjoyed playing Classic Blackjack from NetEnt software. The game has a fast pace, and it's nicely presented. All betting options are at hand, and the graphics are satisfying. Despite the fact the recently released Blackjack Pro is more impressive regarding graphics and gaming options, Classic Blackjack is softer and allows players to risk small amounts.