Details

Written by

Vladislav Dibrov
Play Oasis Poker by NetEnt for free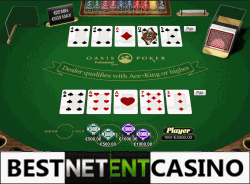 Oasis Poker is often confused with
Caribbean Stud
. The game is played with five cards just like Caribbean Stud, but the difference is that you can exchange one, several or all cards at once. On this page, you will find recommendations for optimal gameplay, rules, and specifications. You can even play Oasis Poker by NetEnt for free without registration.
Rules of the game
Before the start of the game, you place an ante bet. Then the dealer gives you five cards all face-up. He also deals himself five cards, four are face-down, and one is face-up to provide you with some information to make decisions. Then the player decides whether to give up the game and lose the ante bet (fold) or to continue playing and exchange card(s). The later decision is not free, and you are changed for each card. In particular, for one exchanged card you must pay 1x the ante bet, for two - 2x the ante, for three cards it is 3x the ante bet, for four – 2x ante while for all five cards you will automatically call. After you pick the cards you want to discard, in their place, you will get new cards, and you need to decide: whether or not to call. The dealer qualifies with a hand that consists of an Ace and a King. Know more about the rules of casino poker.
How to win at Oasis Poker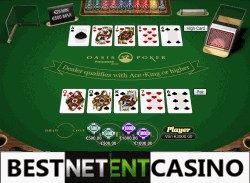 In contrast to Caribbean Stud, in Oasis Poker you can make more decisions. The game has a return to player percentage of almost 99%. This means that over the lifespan of the game, almost 99% of the players' bets are returned, and only 1% is lost. Moreover, if you play the game with bonuses, it can be quite profitable for you. But first things first. You must understand the rules of the game and how to play it. For this, we recommend playing Oasis Poker in the demo mode at the beginning of this page and see how it goes. Know more about
winning at poker and beating the dealer
.
When exchanging cards
To discard one card, you need good draw hands, i.e. draw cards that will give you a big hand such as a royal flush, straight flush, and four of a kind. But there are some rules:
When you have a pair, change one card and switch a card with four to a flush with no pair and four to an outside straight with no pair. To get a new card, you need to discard the one that doesn't fit in hand. For example: A-K-9-7-2. The last deuce with another suit - change it.
When you have four cards to a straight flush or royal flush, even in this situation you can (and should) be ready to sacrifice a pair. Example: Q-J-T-9-9. Any card in the suit will give you a flush or a straight flush, so you should break the pair.

Chasing a rare combination is very important. For a straight flush, for example, you are paid 50 to 1, for a flush - 5 to 1, while for a straight - 4 to 1. The chances of getting such a situation must be used to the maximum.
As you can see, all of these steps don't depend on the dealer's cards. But there are exceptions. In some cases, you should give up a low pair with four cards to a flush or switch four to an inside straight with no pair (depending on the inside straight and dealer's face-up card).
The optimal strategy for Oasis Poker
The following is the best strategy to play Oasis Poker:
Change the card in the two cases described above.
Never split a pair or a set.
Never change more than one card.
After making the exchange use the playing strategy for Caribbean Stud (i.e. continue with a pair or higher, fold all weak hands with A-K).
We recommend playing Oasis Poker from NetEnt without registration to practice the decision-making process without spending real money.
One of the best gaming destinations to play Oasis Poker for real money is Casino BetAdonis. The site gives a daily 20% cashback on all losses in all NetEnt games (including table games).
Where to play?
Fastpay casino has over 5000 games in their portfolio. Their VIP bonus program and excellent customer care make them one of the best in the online gambling industry.