Details
Thank you for rating this article.
Play Free Caribbean Stud by NetEnt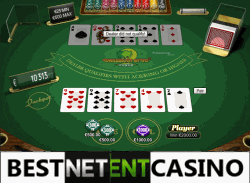 Poker in casinos - a never-ending struggle against a faceless dealer. However, even such an opponent has weaknesses. In Caribbean Stud you play against the dealer as well, and even though the main opponent is strong, he has to perform the same actions that we all know in advance. On this page, you can play Caribbean Stud Poker by NetEnt for free without registration. Learn more about its rules and bring the expectation of losing to a minimum.
Varieties of Caribbean Stud
The game is also available at many land-based casinos around the world. The rules are the same everywhere. The only difference is in the pay-table, but this has a little impact on the game itself. For example, the highest-paid winning combination, and the rarest is a royal flush, and in most casinos, it pays out 100 to 1. Some online casino houses might even pay 200 to 1 or even 999 to 1 for a royal flush. There are also payouts for full house, flush and other combinations. In NetEnt casino, for a royal flush, you get 200:1, for a straight flush 50:1, while for four of a kind you get a 20:1 payout. Different payouts are given for different winning combinations. To better understand the rules of the game without spending real money, play Caribbean Stud in the demo mode at the beginning of this page.
Rules of the game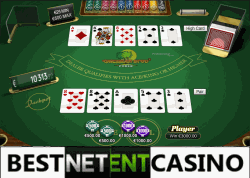 Before the start of the game, the player places an ante bet. He can also place a stake on the progressive jackpot. Afterwards, he is dealt with five cards. The dealer also gives himself five cards and opens only one. At this stage, the player needs to decide whether to call (double the ante bet) or fold (give up the game). If luck is not on his side, he loses all bets. It is important to note that the minimum winning combination is a hand that consists of Ace and King, and 3 cards of different rank.
How to win at Caribbean Stud
The return to player percentage of the game is 94.97%. The payout percentage is lower than that of Blackjack, but this is not a reason to abandon the game. You can learn how to play the game without risking your own money. There is no optimal strategy for this game, and however, if you follow specific rules, you will reduce the house edge to a minimum.
Game Highlights
Always play with a pair or higher.
Always fold weak hands without A to K.
These two simple rules will save you a lot of money.
There are some interesting points for fans to delve into the theory. In some cases, it's best to continue playing with a hand that consists of a card from A to K. However, it all depends on open cards of the dealer:
If the dealer's upcard is weak (less than the face value of your fourth highest card - such as four, but you're holding A-Q-10-9-2) + it does not coincide with any of the player cards + the player has Queen.
If the dealer's card is from Deuce to Queen and it does not coincide with any of the player's cards.
If the dealer has Ace or King, and you have Queen or Jack.
In all these cases you should continue playing because they can win you money in the long run.
Should I wager on the jackpot?
In short: no way! The odds of triggering the Big One in this game are super high. Plus, the chances are high that you will lose your bankroll faster because not only you need to place the ante bet, but you must also place the progressive jackpot bet. In case of luck is on your side and you win the jackpot, it will be paid based on your poker hand. For example, if you have a royal flush, you will 100% of the jackpot. For straight flush you get 2,500:1, for four of a kind 250:1, for full house 100:1, for flush 25:1 and for three of a kind you get a payout of 5:1. If you want to chase the jackpot, you must have a huge bankroll. Under 'huge bankroll' we mean several hundred thousand dollars. However, most online casino players don't have that amount of money. Try betting on the jackpot while playing Caribbean Stud for free on this page and count your expectation of winning on this basis.