Thank you for rating this article.
About Quickspin gambling software for online casinos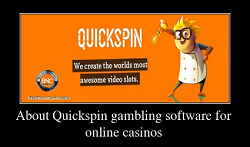 Within five years a small Swedish company Quickspin released two dozen popular slots, won some prestigious awards, made friends with huge online casinos and asserted itself as one of the most professional developers on the gaming market. In May 2016, it was announced that the Playtech company is going to buy the Quickspin company. After purchasing Swedes continue to operate separately under their brand and expand very fast. The Playtech significantly strengthen its position after the purchase.
Just like NetEnt, Quickspin relies on quality. Maximally beautiful graphic rendered in detail only the most exciting bonus rounds and thrilling gameplay in general. Additionally, both the themes and the slots are unique and diverse.
Be sure to use all the features that are offered by our website and know more about Quickspin gambling software for online casinos. Click on the links below:
The best Quickspin online casinos 2020
Highlights of Quickspin slots
RTP (return to player percentage). Quickspin slots collection comes without a single machine with a return below 96%. What other company can boast of the same? Yes, Quickspin's catalogue counts quite a few slots, but who needs the number when there's such a quality? Several games' payout percentage is higher than 97% – Big Bad Wolf, Sinbad, Treasure Island, – while the rest have an average RTP that equals 96.5%.
The dispersion in slots by Quickspin is on the low and average level. Why? Well, developers made slots that they would like to play themselves, and they like the golden middle: a chance to big win remains, while the risk is significantly reduced. Right or wrong - it is subjective, but international recognition, awards and recent accession to Playtech show that the Swedes are doing everything right.
Low winning during the bonus feature. Note, that Quickspin pays a lot very rear. Usually, a bonus feature will end with 20x - 50x result. If you were lucky to catch the 100x bonus feature, then forget about this machine until next month.
The lack of progressive jackpots. Quickspin slots are not using progressive jackpots.
Cool graphics and design. When a player thinks a bonus beautiful graphics, Quickspin slots will be one of the things that come to mind. For example, Big Bad Wolf was drawn by hand.
Social gambling. About a dozen slot machines by the company were moved to Facebook, where they can be found in Mirrorball Slots. Swedes see this as a promising direction, just like some other well-known operators do.
What is the conclusion? We have a first-class developer who is focusing on quality.