Details
Thank you for rating this article.
About Quickspin gambling software for online casinos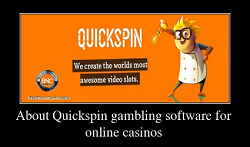 Within five years a small Swedish company Quickspin released two dozen popular slots, won some prestigious awards, made friends with huge online casinos and asserted itself as one of the most professional developers on the gaming market. In May 2016, it was announced that the Playtech company is going to buy the Quickspin company. After purchasing Swedes continue to operate separately under their brand and expand very fast. The Playtech significantly strengthen its position after the purchase.
Just like NetEnt, Quickspin relies on quality. Maximally beautiful graphic rendered in detail only the most exciting bonus rounds and thrilling gameplay in general. Additionally, both the themes and the slots are unique and diverse.
Be sure to use all the features that are offered by our website and know more about Quickspin gambling software for online casinos. Click on the links below:
The best Quickspin online casinos 2020
Highlights of Quickspin slots
Where to play?