Details
Last Updated: Thursday, 12 January 2023 10:29
Should you play in new online casinos?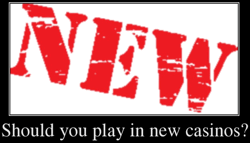 New online casino — new bonuses, offers, promotions, free spins, blah blah blah. Being rational, the best bonus you may get is a welcome offer. Usually, most of the players will not reach to complete the
wagering requirements
. So, what is next? Remember, you should not play in a new online casino. I am not going to describe my experience in detail, but I lost €12,000 in a new casino in a couple of days, then deposited another, so I had an overall loss of €50,000. I had not seen any profit, bonuses and even returns. I was losing more than I had earned. Understand more about "
Should you play in new online casinos
or no?" in the below article.
Note, if you believe that every online casino has its prize pool for winning, then new online casinos do not have money in it. You must lose before winning.
"What was I expecting?" It is a new online casino!
We know that an online casino can't interfere with the RTP (return to player percentage) of the slots. Example: We have chosen a new licensed online casino, which offers excellent bonuses. New casinos know that their investments are secure, therefore giving away free money in welcome offers (new casinos are 100% in minus with bonuses). For example, an online casino offers 100% up to €1000 welcome bonus with 40x wagering requirements. It will cost a lot for them, but they will get a lot of players very fast. Even if some of the players will hit a big win, wagering requirements do not allow them to cash-out the money.
If you want to be involved in that "bubble" - take free bonus money but remember that you are going to pay back every cent. It is just like a pyramid. First, players will lose their initial deposit and free bonus money before completing wagering requirements as slots are dead (no winning, no bonuses and features). Next players will lose their deposits and the bonus money but not so straight, as in "the prize pool" is already money from previous losers (so it's possible to win some cash). If an online casino doesn't have players to deposit, then you are finished. You will be the first player who is 100% looser. You will not hit any big winning until an online casino has enough money in the pool.
It is quite similar to an online poker room. One player wins the money of another player; the room takes its percentage. Imagine that two players are playing online poker for several hours. They started the game with €10,000 each, and a total bank is €20,000. As a result, the RNG (random number generator) was doing its job to take some percentages, and some hours later players got €8,000 each, a total bank of €16 000. The rest is the poker room's percentage. The same we may see at online slots. Those damn 5% are taken as a service fee. Fair enough. Here came a person who deposited €20,000, he lost them in 200 spins, and an online casino got its thousand as a fee, and the rest went into "the prize pool". That is how it works.
The casino always wins. ROI.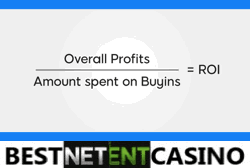 What is ROI (return of the investments)? On the given picture, you may see a formula. If an online casino is running a legitimate business and has attractive bonus offers, then its average ROI is more than 50%. An online casino is a good source of income. An investment is minimum, and profit is maximum. A brand would prefer to expand, then to create a new casino (even to open a new one is cheaper than to pay money to lucky winner).
It is slightly better to play there, where people deposit a lot of money. Remember, the players play against each other for the prize pool. And what pool prize you may get from a new online casino? Dream on if you still think that you may get anything from there! Good luck.
Related articles
Where to play?
Fastpay casino was opened in 2018, so for sure they have money in the prize pool, and you can be confident about their reputation. 100% trusted operator!