Yggdrasil 2023 UK slots review with a demo version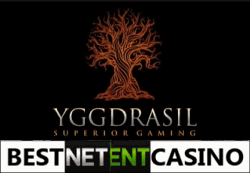 Among the many legends of Norse mythology, there is one of the sacred tree Yggdrasil. It is thought that it is so huge that its roots are in the centre of the Earth, and its crown reaches the sky. Here every level has a different world; in one of them, you may find yourself. That is how the new company was named by a group of developers Cherry AB (Sweden). We are sure that our guests will enjoy their products, go for them, you may find all the slots on our website. You may play for free and without registration or any other restrictions at
Yggdrasil slot machines
.
Choose Yggdrasil online slot to play in the demo.
The table below allows you to choose and start any online slot by Yggdrasil in demo mode. Click the selected casino game of the list below (second colon on the left) and play for free. All the games are sorted alphabetically (but you can sort them with the blue buttons via any data). To sort, click on the blue button. If sorting does not work, try to refresh the page CTRL + F5: Any of the pages contains a description (hidden data and tester's opinion) of online slot, tactics, secrets and strategies. Note that the table below includes only the online slots on which we have the hidden data. The complete list of all slot machines is in the list to the right.
Yggdrasil Gaming – from the beginning to the present day
Yggdrasil Gaming was founded in 2013. The founders were quite limited in time to prove their competence. However, the team coped very well, and today Yggdrasil slots may find in the most trusted online casinos. This team was initially focused on releasing software for the online lottery and live lotto. But by the time Yggdrasil slot machines were born – they are known for their high quality, user-friendly design and lavish bonuses. Malta and Gibraltar license the gambling activity of Yggdrasil Gaming. And there you may find their offices. The headquarters responsible for development is located in Poland, Krakow.
Some of Yggdrasil achievements
The development of their iSENSE platform for iPhone and Android devices shows how Yggdrasil products went mobile.
The use of the HTML5 framework for a better experience in mobile gaming.
The Super Free Spins advertising concept for a better distribution of free spins to the online casino customers.
Software Rising Star Awards at EGR B2B Awards in 2015 and 2016.
The Award of iGaming Software Supplier of the Year in 2016.
The so different slots
All the Yggdrasil slot machines have an unusual approach to themes and design, and that is what brings them together.
How do you find that devilish clown fromWicked Circus slot machine? You better skip this slot if you are still afraid of these red-nosed entertainers with a white face, even if the bonuses (and here they are a lot) may tempt you.
Try your luck with the king of the apes atMonkey King slot. By the way, the crowned primacy may share with you two types of Wilds, several variations of free spins and a pick and click bonus.
Not afraid of viruses? ThenCyrus the Virus by Yggdrasil is a perfect choice.
Do not missLegend of the White Snake Lady slot machine by Yggdrasil. Here you will read the ancient legend of the White Snake turning into a girl.
To find and test more slots by Yggdrasil Gaming, do not hesitate to use the search feature of our website.