Details

Written by

Vladislav Dibrov
Last Updated: Thursday, 04 March 2021 19:46
Stretch cycles of pokies 2021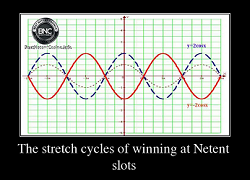 A payout percentage (RTP) is important data in any pokie, but if you have only this figure, you cannot see the complete picture. For example, a payout percentage of 96% means that you will win (on average) $96 of $100 lost, but. What number of spins needed to fulfil this statistic? 100 spins, 1000 or several million? This value meets the
cycle length
. In turn, the speed of passage of the entire cycle through is in
the prize pool
, which is formed by all punters who play selected pokie. Some pokies have a stretching cycle, which depends on how long the players are making bets. It is about the phenomenon of stretchable loops at the pokies and will be discussed in this article.
How does the stretching cycle of winning work?
It should be noted that stretchable cycles are very subtle psychological move. You may have noticed that after registering at a new Australian online casino (non-network), you are winning more often when first playing at the pokie. It is from here spread the information that the new account is the way to win at the online casino. This phenomenon is associated not with the new account, but with the phenomenon of stretching cycles of many pokies. For a better understanding of the material, we recommend you to get acquainted with the concepts of classifying players by online casino software.
For example, playing at the pokie for the first time (after registering in a new Australian online casino), the first 1000 spins you play in the pokie with a very short cycle of winning. It is a kind of beginner bonus. After you've made 1000 spins, for example, the cycle lengthens and becomes the average length. After 5,000 spins you play at the pokie already with a long cycle and the same volatility.
What for, providers use this technique?
If you analyse the psychological component of the stretchable phenomenon cycles in pokies, the reasons become obvious. The main purpose of the online casino is to interest a new punter and make him believe that he can win a lot of real money. Agree that if the player makes a deposit of $1000 and will lose it without any big wins, then the probability of new deposits tends to zero.
Exceptions
First of all, from the described concept pokies with a very long cycle are excluded. Do not wait for the beginner's bonus from these pokies. The examples of exceptions are:
How to use it?
Keep in mind the information, and it will be much easier to explain the behaviour of the software and try to predict its changes. Try to play pokies with high volatility, but without the longest cycles once after registering in a new casino.
Where to play?
If you choose Fastpay casino you will have the opportunity to test pokies not only with real money but in demo mode. The casino with no-hassle withdraws and very professional customer care. One of the top Australians online casino on our list.