Best Netent online casinos with biggest bonuses 2018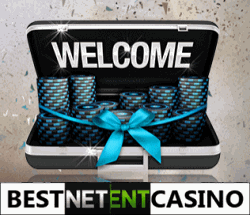 More is not always better. Many online casinos may offer you large bonuses, but their wagering requirements will not be as attractive as they may seem. Here you will find a list of the best Netent online casinos, sorted by the largest welcome bonuses. Next to the bonus amount you may see their wagering requirements.
The list of the best Netent casino bonuses 2018
In order to get additional information about payment methods or the software move the mouse on the picture and look at pop-up. In order to sort the numbers in the table via bonus, wagering requirements (shown in (bonus money)*х), payouts (shown in hours), payout limits (shown in thousands euro per month), trust (our opinion) or no deposit bonuses (shown in usd), click on the blue buttons links:
More details:
Avoid falling for it
Video slots casino can afford giving away a х20 wagering, because it has sufficient resources. This is one of the biggest online casino in the world. Other offers are not so generous. Most often you will find bonuses with a х45-50 wagering requirements. This is quite normal. However, you as a player should prefer a х20 over a х50, just because the difference between them is huge. These are the multipliers of bonus hunters that use generous bonus promotions to get a positive mathematical expectation of winning.In total, bonus hunters are one of the main reasons for high wagering requirements for big bonuses in online casinos.
To clearly understand the profitability of any casinos welcome bonus, do the following:
First of all, read the bonus terms and conditions. Find the lines about the "wagering", there you will find how many times you must play your deposit or bonus through.
Make sure that you have found the information regarding the restriction of maximum stake per spin during completing wagering requirements.
Search for additional restrictions. Like maximum winning amount from the bonus money.
Updated: search if you can cash-out the bonus money. Couple of weeks ago we have found the Netent online casino that not allows to withdraw bonus money (even after completing of wagering requirements).
However, the best rule is to know the rules!
Indeed, nobody forces you to take a bonus. You can simply refuse it. All is up to you. Do not hesitate to contact the support team and ask to remove the current bonus offer before making any bets. Use the best and most trusted online casino sites, clicking on the link below: