Details
Thank you for rating this article.
Dice of Ra slot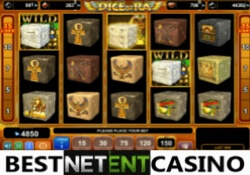 EGT's passion for creating Dice versions of slots is amazing. Another slot from this series was made - Dice of Ra slot. It also has 15 lines with 15 free spins with the participation of x3 multiplier, as well as Rise of Ra. Naturally, there are standard bonuses – risk game and bonus with jackpots. It is worth noting the high-quality design, so try to bet here.
Reviews and recommendations by our testing team
Already familiar, the update affected only the visual part. In my opinion, it has a better picture while this slot keeps the remaining parameters. Dice of Ra has not yet gained much popularity, which is due to a very recent release, so you should be more careful about the slot due to the possibly "cold mood".
In the usual spins and during free spins, it shows parameters similar to the previous version. Expect long series of spins without a win and the fact that most of the winnings are insignificant - ranging from less than the bet value to just a few bets. Winnings of 10x – 40x bets were not often, bigger ones were not received during testing.
Triggering of free spins happens at an average distance of 60-150 spins. If waiting for this feature extend 150 spins, you can expect few free spins features almost in a row. The high potential for triggering free spins at the start of the session is also active as many slots from this provider. Also, there is a frequent re-trigger of free spins with the potential to receive 75-90 + spins.
Despite the temporary missing of big winnings (I remember that Rise of Ra gave a win of 1743x total bets), due to the lack of popularity of the slot, the average winnings at 15-30 free spins was 30-60 bets, and when 15-25 free spins were triggered the winning was 80-120 bets.
The maximum payout obtained with 45 free spins almost reached 350x bets, but I failed to catch more than 45 free spins in this slot. But the possibility of giving out winnings of 500-1000 + bets is not high but still can be triggered in this slot.
I will not recommend Dice of Ra slot for playing for bonus money. If you play with real money, it is better to limit yourself to short and medium distances in an attempt to get a big win. I would not recommend longer distances because of the low popularity of the slot.
Settings
Developer - EGT.
Pay lines - 15 (fixed).
Volatility - unknown.
The betting range is 15 - 900 coins.
The playing field is 5x3.
The maximum winning is 600,000 coins (wild symbol).
Bonuses - free spins from Stone Dice, bonus with four progressive jackpots and risk game.
Return to player percentage (RTP) - unknown.
You may also like the following slots in Fun mode