Details

Written by

Vladislav Dibrov
Last Updated: Thursday, 12 January 2023 15:02
The situation around online poker 2007-2023
As you know, the online gambling industry is going through significant changes. Even the PokerStars operator has introduced a new format for SNG - Spin and Go with random prizes and very fast blinds raising and added online casino games. The reason is - fish losing their money too fast. I think that all companies that are involved in online gambling are realizing that the era of online poker came to an end. Many poker rooms re-educated in online casinos and happy to keep their players in this segment. Let's try to analyze the background to the present state of affairs with online poker and casino.
Online gambling: 2007-2023 year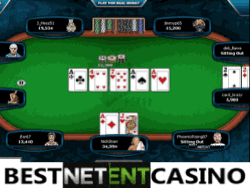 I think it will be effortless to find information on the history of online poker. A simple google search will show thousands of links on this theme. We will consider 2007 to 2023, which is a particularly significant period in the development of online gambling. I was personally involved in the industry as a poker affiliate, and I only hope that I will give a piece of my mind.
The history of online poker
In early 2007, many people thought that earning via online gambling was cool. First of all, these sentiments touched online poker. Apparent advantages of such work pushed many players to leave a job and devote themselves to the game. As a bonus, there was an opportunity to "work" at any time and from anywhere in the world where there is an Internet connection.
Thousands of players have made poker their primary source of income. At the same time, a large number of so-called poker schools willing to teach beginners the basics of poker in exchange for registration via their affiliate link. In this case, schools were getting 60-70% of all rake (commissions) that player pays to the poker room. Most important among them was the Poker strategy. They were fundamentally different from others with giving away free starting capital of $ 50. Naturally, the money could not be immediately withdrawn, and they are subject to certain restrictions.
There were plenty of scams that are specifically lost these basic start-up capital accounts to themselves using proxies, virtual windows machines and VPN services. Poker-rooms successfully detected part of the accounts and banned with the balance; others managed to scroll through fraudulent schemes double-up tournaments. But most of the newcomers continued to study. How has the situation with online poker in the coming years?
What killed online poker?
Free online training, access to new training videos inevitably raised the level of the majority of players that were playing for fun, but in the end, they were so addicted and lost all of their money.
At the same time even, novices continued to improve. They had no choice. The one who made poker their primary source of income could not afford to lose money. It was an excellent incentive to continue their education and develop their skills.
As a result, the overall level of the game has grown so much that the poker rooms have been forced to introduce additional restrictions to protect beginners. The main reason for this policy was that professional players do not generate a lot of rakes. And they avoided playing with the same levels of partners.
Online poker is dead
To date, we have virtually collapsed tool to attract newcomers to the machine called "online poker":
Poker rooms, which kicked regulars and want to have only known weak players.
Facts about stealing of money from the players' accounts.
Thousands of bots that are running in separate poker networks with the consent of the poker rooms.
Cheating with commissions to partners that attract new players.
I think that 2023 will be the last year in the history of online poker in its modern form. Online poker is dead. Loyal fans of online pokers shoot video, which should help people to dump rose-coloured glasses and abandon the game.
Online poker - online casino instead
Today the situation is the following: online casino gambling is often more profitable than online poker. Field increasingly enhanced, and the volatility of online slots reached a very high level. Players can win thousands of their total bet per single spin. Due to the increase of negative expectations in poker (increasing of rake) player more often choosing online casino instead of poker. Learn more on the next page:
When you realize that in an online casino player can get a positive expectation of winning, will you continue to play poker?
Where to play?
At the best online casino from our site - Fastpay, 100% trust, you can enjoy not only poker but over 5000 different casino games. Moreover, your winning will be sent within a few minutes (up to 5).