Details
Last Updated: Monday, 11 April 2022 18:47
Traps of slots in an online casino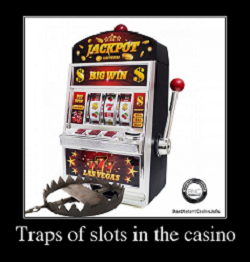 Today I'd like to talk about the psychological part of the loss in slots. It is clear that if
the slot returns 95% of the bets
, you will lose on the course. Today I would like to explain the phenomenon of
massive losses after a big win
, the desire of the player to finish the session in the plus and to dispel a few myths about
online casinos
.
Many players fall into the trap of the slots, when you can't stop the game session, even being a little in the red. It is the desire to complete each game session, added to the biggest traps of slots in the casino for the player. The player will inevitably lose all the money it has access to in times of loss. This phenomenon is the last stage of gambling addiction. Learn more about this disease on the following page:
What pitfalls await the player in slots?
When you finish the game?
Do you think you have full control of the situation with gambling? Can you easily finish a game while in plus? And it may be a minimal amount (relative to the amount of the deposit). And can you end, if you lose (for example) half of the deposit? Many players will answer in the affirmative, but, as statistics show, very few people can stay while they're in the red.
Moreover, let's imagine a situation, when a player wins 1000 Euros, then losing 200 of them. After winning the player subconsciously considers to be gained by a thousand of their own and losing 200 of them is taken by the player as a loss of personal money and it is difficult to stop again. Learn more about the gambler's condition after a big win:
What to do?
The following tips and tricks will help you avoid many pitfalls of the slots and slow the progress of gambling addiction:
Where to play?