Thank you for rating this article.
How to play online slots to get profit?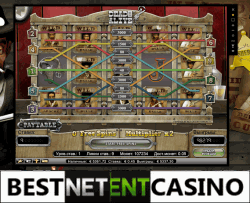 At this page, you can find some advises and answers on myths that are in the minds of some gamblers. I hope that adding this information to the basis "How to win at the casinos using Netent software" will increase your chances of winning and help you to learn how to play online slots to get profit. Anyway, we provide this information for free, and in the worst way, you will read things that you already кnow. The article built-in question – the answer is model. Let's go.
Additional information before starting
Our website offers to gamblers own recommendations regarding every slot of all software providers. Use these recommendations to make the gambling at slots profitable:
Questions and answers about profitable gambling in online slots
Slots are set to small RTP (return to player percentage). Online casinos cannot influence the settings of slots. No operator will allow cowboys in offices to do what they want. In another case, just two hours ago, Pete spent millions on slots and Microgaming returns the sum in the total pot, nothing personal :) Either you make a huge win, or your network will be drained!
Guys, "earn money fast" in the slots not real. They are fake! Can't you guess and check? Well, let me do it for you. I will use a proxy and see the data while you play. Look:
- Server x.casinomodule.com is the official Netent server, where x is the technical name of the casino.
- Server y.gameassists.co.uk is the official Microgaming server where they are the technical name of the casino and so on. You can check your favourite casino.
Slots are purchased. Slots are bought and connected, but always physically located on the official operator's server.
Which one is better? Microgaming or Netent? Remember. If the slot can give, then it will give on any machine and at any casino, and it will do so quickly, without draining your bank! If not, it won't give anything! Read more about Microgaming and Netent by the links :) I like both developers.
What should I do? Where to play? Choose! a. don't play; b. Check, how much the slot has accumulated during this time, save the same amount by not playing and play abroad on real slots; c. Play on foreign servers; d. Play at land-based casinos.
When can I play? If you still really want to play, then your goal should be to have fun! For example, if you earn $5 000 per month, you can reserve $300 per week for playing at online casinos. Remember, at casinos, you play with the negative mathematical expectation of winning. The fact that you can earn cash is just a side effect :) If you have no money and have a goal to make money, then forget it! You will undoubtedly lose everything and remain with nothing in your pockets!
If you win. Control yourself, hit the wall, break the router (later you will buy a new one from winning), but don't play before you withdraw! If you start playing with the winning, you will lose the whole amount by expecting additional money. When you get a withdrawal, forget about casinos for a week! Have a casino-free week! You need to cool down and rethink what happened! Do not raise your rate! A week later, you can play again on the same slot just with same stakes as you did before!
Do I need to recoup if lost? If you lose, and your inner voice is saying that you need to recover with high stakes, then immediately hit the wall! You will keep losing! Casinos make the biggest profit from players trying to win back their losses.
If the slot doesn't pay anything. Try refreshing the page and/or shake it up with a couple of "stops." Try to change the bet! Zoom in on a couple of spins and/or decrease! Perhaps, your rate is too high, and you have to hit spin a lot more times to win/get a refund, but you don't have enough of the deposit left! If the slot still doesn't pay, there is no need to fill it with more and more cash! Get out and come back in half an hour! Maybe it will return your temporary bank, or it may even give you the top prize! Still nothing? Then you can forget it; your money is no longer there! And it won't be there tomorrow! And you shouldn't believe that it will be! Start over again!
If none of the slots pays. Well, today is not your day! Immediately stop playing, control yourself and come back tomorrow or in a couple of hours; otherwise, you will spend everything! Chill and focus on other things!
If the slot paid. Make sure to test it with around ten spins and then go away. Don't go back to Netent slots, play Microgaming titles instead. And tomorrow, this slot can't give! And a week later, too! Don't let it drain you! Forget that he paid you anything! The slot didn't treat you as it usually treats players! Otherwise, you will later spend ten times more than the amount you've won! All of that just because your brain remembered that there is money on the slot!
If you think that slot will pay any minute now, but it doesn't. Do not hope at all! You're losing! Find the strength to leave and come back later to try your luck again.
If you are constantly getting two scatters and can't catch the third. Refresh the page and if the slot doesn't pay to try to catch the third scatter by hitting "stop." If once again the scatter isn't given, increase (not lower!) the bet on a couple of spins. Finally, if yet still you fail to hit the third scatter then go away and come back later. If the occurrence with frequent two scatters stops, it means that the situation has changed, but not in your favour. Come back later.
Why two scatters are often hit? Firstly, two scatters on some slots pay specific rates. Usually, if the slot often shows two scatters it means that there's something in your time bank and soon a bonus will be triggered. If by any chance a bonus isn't triggered, that could say that the amount has already been issued and a good bonus can't be expected anytime soon. When will it be triggered next? Nobody knows. As I wrote above, if a large amount was inserted into the game the slot will trigger a bonus very quickly.
But what if I had played for... If you suddenly hit $10,000 with a $10 bet, don't feel bad that you hadn't played for 100 per spin; even if you did wager 100 the machine would've given you the same 10,000 or yet nothing at all!
Regain control over the situation after a bonus. After a good bonus, you certainly have to test the slot with several spins and see how the situation has changed on it. It may have something additional to payout, or it may enter the "sleeping" mode.
Don't hurry. Spin-on intervals, don't go crazy and don't rush! The game won't have time to give you back the money.
However, you can play this way when you have free spins. You spin with high speed to merge them while you haven't won anything and then take away the drained money. Thus, the wager you will invest will be a lot lower!
I triggered pick-and-win bonus; what to choose? Whatever you want, the machine has already calculated the amount you're about the win! Therefore, saying: "Damn, I should've chosen the left box" is pointless :) Your choice was the right one! Enjoy the game and the "drifting" without drains!