Details
Thank you for rating this article.
Licensed and fake Netent online slots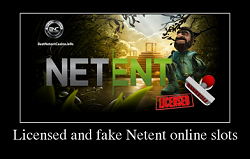 Thousands of online casinos offer NetEnt online slots. Some of them have only software by Net Entertainment, but usually, the online casino has slots by different developers. White label online casinos often choose software by Yggdrasil, Microgaming, Netent, Play'n go and Amatic. If you see such a set of games, it will be a licensed operator. Let's see which online casinos use the licensed Netent software, and which of them work with a fake one.
Our website offers demos of licensed Netent slots and own recommendations for each of them. Check out via links below:
Why would an online casino use pirate Netent online slots?
At licensed Netent online slots players have equal chances to win. Anyone can win it big, and you will not see a player with greater chances than another. Let's put an example of two licensed online casinos. Suppose that:
Example
There are two online casinos. Let it be 1 and 2. Since all Netent slots operate on Net Entertainment servers, 1 and 2 are just intermediaries. There can be a situation that one player would win at 1 and the other would lose at 2. First online casino should pay out winning from their pocket. Usually, this problem is solving with the increasing number of player and amounts which they are wagering, but there is a much more easy way.
A lot of small online casinos do not want to have these difficulties, so they choose a different path - fake Netent software. It cost nothing (around €5000 comparing with white label package of €100 000). And you're getting this software completely. You can set any RTP, any probabilities of bonus features and even edit these settings for every player. A lot of casinos that are using fake software hide it for some GEOs. For example, a lot of Russian casinos show pirated software only for post-Soviet Union GEOs. If you open their website from different IP (the UK, Europe, etc.), all these pirated games will be hidden.
Pluses for casinos with fake software
Checking the software
Nowadays, players are much more experienced and know a lot about online casino software. At pirate software trap usually coming only beginners. You can see a lot of differences between licensed and pirated slots. The picture is different, bonus features run in different ways and, of course, slot sends a request to the unofficial server, that differs from developers. You can open the console in Google (Inspect after the right click) and check where online slot sends the request.
If you have found any pirated slots in any online casino, you should avoid playing there (even in licensed slots). Usually, if an operator is using such type of earning money, it shouldn't pay any big winning to you and will find a reason to void it.
Where to play?