Licensed and fake Netent slot machines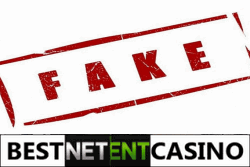 There are hundreds of online casinos that offer Net Entertainment slots. Some of them have just several slots, but if starting working with Net Entertainment on a contract basis, the online casino would definitely get more slots. Would they hide the most popular slots and promote just some of them? Let's see which online casinos use the licensed Netent software, and which work with a fake one.
Our website offers the demos of licensed Netent video slots and private recommendations for every of them. Check out via links below:
Why would a casino use counterfeit Netent slots?
At Netent slots the players have equal chances to win. Anyone can win it big, you will not see a player with greater chances than another. So why do some casinos use the counterfeit Netent slots? It is probably due to the possible winnings and the difficulties caused by the lucky players. Suppose that:
Example
There are two online casinos. Let it be 1 and 2. Since all Netent slots operate on Net Entertainment servers, 1 and 2 are just intermediaries. So it is likely that one would win at 1 and the other would lose at 2. Over time, casino 1 would start complaining: "We spend money on the software to draw the attention of the players, but do not get a dime. Moreover, we pay out the winnings of our own pocket.
Let us customize the slots already." From that moment on there are equal chances for casinos 1 and 2 and players. Over time, everything will work as it is supposed to. If there is a 97% RTP of bets made, then you get 97%, not more or less. If there would ever be a planetary alignment which would make the players to win at 1 every first game, and then lose it all at 2, the one to blame is 1 and they should definitely review their offers and bonus policy in order keep their regular players in. Net Entertainment would not allow the operators, under any circumstances, to configure the slots against a player.
That's why getting a Netent license is not so easy, the operator should not only make a "security deposit" of 200 000 Euros, but also "be fair" and process the winnings that are won by players. Many small casinos would not mess around with the payouts of hundreds of thousands Euros, but they definitely want their slice from NetEnt, so they choose a different path - fake Net Entertainment software.
Fake software?
A good programmer is up to make a good clone of the slot machine. He would not be able to gaing access to the RNG, but he may change the way the symbols manually drop. It is quite easy, especially if the player must lose. The way of faking the Netent software is chosen by those online casinos which have nothing to do with the law. That means they are not monitored – they have no license, and their software has not passed any tests. You should understand that those casinos are far from being as fair as the ones which work with the Netent software. You will hardly win there, and why would the owner pay out $1000, if his casino is worth $300?
How to find the licensed Net Entertainment products:
The free mode of the Netent slot should have a Netent logo. Load any of the Netent slots on this page. No circles, progress bars and so on.
While loading the real money game, you should see the note that you play under the jurisdiction of Malta. If there is no such note – that Netent slot machine is fake.
Also, on the loading screen of the real money game you should see the Netent logo – no progress bars, circles and so on. At that point you are connected to the Netent servers.
You may click on "Partners" and see what % is paid. You may normally find it on the casino main page, at the bottom. If that % is paid directly from the deposit – you better avoid it. If paid from the revenue - better, but still nothing at all.
If you are part of affiliate program, then the casinos that have a Netent license take an admin fee. Usually, it is 20% of player's win and loss. That's how the negative balance of the affiliate program is reset on the 1st of every month.
Where to play: