Details
Thank you for rating this article.
How to win at Dead or Alive online slot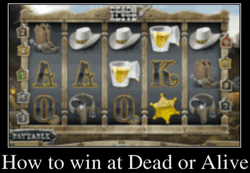 You can feel yourself like a real cowboy, who is catching criminals, who are trying to escape from the persecution of sheriff. Now the player is in the Wild West. We will give you some tips on how to win at the Dead or Alive online slot. But you have to remember about the mathematical expectation of winning.
Probabilities of winning and free spins features that are declared by Netent
You need to keep in mind that winning combinations do not form in every spin. During usual spins, 30 spins out of 100 will make a profit (probability of hitting any winning is 30%).
The scatter symbol falls (statistically) every seventh spin, and returns (in payments for 2,3,4 or 5 scatters) 17.4% of bets.
The probability of triggering the free spins feature is 0.66% (every 151st spin).
Player will get additional free spins (+5) in 2.2% of free spins features.
Total RTP (return to player percentage) is 96.8%. During usual spins - 53, 7%, for scatter symbols - 17.4% and 25.7% in the free spins feature.
Personal testers opinion
This slot has one of the longest cycles of the games from NetEnt with high potential of winning and highest volatility. It is recommended to have at least 500 bets on the balance. You must always choose a small bet instead of a large and to have money to survive until "lucky" free spins feature. The winning amount can be as high as several thousand bets. The main aim during the free spins feature is collecting the Wild symbols in the play line (all five, one for each reel). Then you will be able to get five more games with an already paid line of wild symbols. I recommended this to all fans of slot machines with high volatility.
Hidden parameters and settings of the slot (data from testing)
Volatility is 16,26 out of 20 (high).
Cycle length is long.
The rating of the slot machine for the wagering is 0,81 out of 10. This is a low number. Do not even try to complete wagering here.
The frequency of triggering of the bonus free spins feature is statistically every 154th spins (0.65%).
The probability of a hit (any winning) is 30,43%.
Distribution of the winnings is 69% during usual spins and 31% in the bonus free spins feature.
The maximum winning during the tests was 4 181x.
The average winning from the bonus was 47x.
RTP of 96.8% allows obtaining a positive mathematical expectation of winning in the casino.
Similar articles