Details

Written by

Kamen Valev
Last Updated: Sunday, 10 April 2022 17:28
Play Free Backgammon Online 2022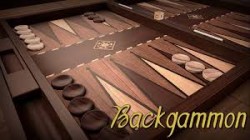 While most players
play backgammon online
by betting real money, you can play free backgammon games without wagering a dime. Several benefits come with free backgammon. First, it can be used as a means of learning the gameplay without putting or risking your money. Secondly, it can be used to test some playing strategies before proceeding to play with money. In the online gaming world, you will find many casinos that offer backgammon. However, we've handpicked the very best ones for you. This article will discuss extensively on how the popular backgammon is played, and the different strategies which can be used to win big on it.
How Backgammon is Played
Backgammon is among the famous board games, and 2 players usually play it. In the online version of the game, you'll be playing against an artificial intelligent opponent. Backgammon has three major components, the game board, the draughts, and the backgammon dice. The board is made up of 24 triangles which have colours that alternate. These triangles, also known as points, are divided into groups of four called Outer Board and Home Board.
Each player in the game will have 15 draughts, and they'll try to advance these draughts to the home board. To determine which player will play first, each player will be required to roll a die. Any player with the highest value plays first. The game's goal is for the players to advance their draughts before their opponent can. After this, they can start to bear their advanced draughts off. The values obtained from the backgammon dice roll in each round determine the point which a draught can advance to. Points with just one draught are referred to as Blots. If your draught land on any blot, you have what is called a hit. The draught in the position is then moved to the centre of the board. A player with a hit draught must first move back the draught back to a point on the board before he can move any other draught.
While playing backgammon, it's possible to be out of moves. This occurs when you've no legal moves left. In backgammon, you are allowed to only move a draught to an empty point or one with just one opponent draught. The best backgammon boards allow players to offer what is known as doubling cube, although the opponent may choose to accept it or not. When out of legal moves, your turn is skipped, and your opponent will play. If you roll doubles while playing backgammon, the total moves you can make for that turn will be four instead of two. For instance, if you roll double 6s, you will be able to move your draughts four times over six spaces.
Bearing Off in Backgammon
Once you've successfully advanced your draughts to the home board, you can start to bear them off. To bear off simply means removing the draughts in your home side of the game board. For a draught to be removed, you have to roll the backgammon dice to get a value that matches the point where it is. For example, to bear off one of your draughts on point 3, you have to roll a 3 before you can. You need to remember that you're not allowed to start bearing off until you advance your draughts entirely to your home side of the board.
When you roll the dice, and the number has no draught in the point, you have to move one of your draughts forward to the appropriate point from the number. Take for instance, if you roll a 2 and your draughts are on point 3 and above, you have to move one of them, two spaces forward. If the space is not legal to move to, you can then remove a draught. However, this is not possible if a legal is available. The same rules apply whether you're playing backgammon android or any other mobile backgammon game.
Play Mobile Backgammon Mobile
The good thing is that you can find backgammon android versions for your android smartphones. Mobile backgammon offers the comfort of playing on the go. Online backgammon game is designed to work on PC and mobile devices without the need to download an external app or software. You also don't need to create an account with a backgammon casino before you can play it for free. What you need is a good internet connection and your device, and you can enjoy the game.
Besides free backgammon game, there is also backgammon online for real money. Take a look at some of our best casinos that offer the best backgammon boards with a flexible betting range. However, to play real money backgammon, you'll create an account with a backgammon casino, and then deposit money to your casino account. You can make a big win playing real money backgammon.
Play Backgammon with Casino Bonuses
One thing that makes online casino gaming fun is the ability for you to claim several amazing bonuses. This also applies to backgammon casinos. Some of these casinos reward you with bonuses that you can use to play backgammon for free. Besides that, a few casinos that have mobile backgammon apps offer exclusive bonuses to their players using the apps. You can check the promotions section of your backgammon casino to know what bonuses they have for you.
The good thing about claiming backgammon bonuses is that it allows you to win real money. However, you need to be aware that many casinos have a wagering requirement for their bonuses. You can read through the bonus terms to know the wagering requirement for the backgammon bonuses that are being offered.
Online Backgammon Strategy
If you are planning to play online backgammon and win, then here are some strategies that can help. Although we need to point out that backgammon is a game of chance and skill, so no strategy can guarantee you win each time you play. Nevertheless, with the strategies we will explain in this section, you can be confident of making frequent wins playing real money backgammon online.
One of the common and simplest strategies used in backgammon is Running Game. The Running Game strategy involves you advancing your draughts quickly to your home side of the backgammon board. However, for this strategy to work well, you need to have strong rolls (high numbers). Another popular backgammon strategy is Blitz. This is an all-attack move on your opponent's draughts in a blot. The aim is to send them back to the centre of the board and set back their pips by some numbers. When using this strategy, you also need to remember that your attacking draughts are also vulnerable to being sent back to the centre of the board.
Priming is another common backgammon strategy. It involves connecting 3 to 4 points with two draughts each which cannot be bolted. This can make things challenging for the opponent as they will have to roll higher numbers to pass over the Prime you've created. When you combine Priming with Blitz strategy, it is called the" two-way forward" attack strategy, and it is very efficient.
Modern Backgammon
Countless people play traditional backgammon games in their homes to date. But it is usually limiting because you cannot play it while on the move. However, technology has made things easy with the modernization of backgammon. As mentioned earlier, you can play backgammon android games and other variants. The design of the game is exactly the same as the traditional board game. With so many online backgammon casinos, you can play against your friends regardless of the distance between you and them.
We have explained everything about free backgammon and how you can win playing it. So why not take a look at our recommended best backgammon boards today and enjoy this fantastic game!
Helpful articles
Where to play?
Fastpay casino pays money to payment systems and bank cards within a few minutes (up to 5). They have a rich choice of casino games (over 5000) and one of the best customer care in the online gambling industry.