Game is not supported by NetEnt from 2016. Choose another slot below:
Fortune Teller video slot
Omens, prophecies, fortune-telling cards and even a little desire to look into the future, all this today, as well as many centuries ago, continues to be of particular interest to every person, even if he claims that he is absolutely indifferent to the predictions. For all who want to reveal the mysterious veil of future events, Fortune Teller video slot was created, in which Net Entertainment developers successfully combined the magic of ancient rituals so successfully, the spirit of adventurism and the mesmerizing ringing of falling coins. So, look into the crystal ball and believe the most radiant predictions! The theoretical RTP for this game is 93.3%.
Review by tester
Frankly, it is one of the weakest (in terms of expected pay-off) video slot. I was playing at the maximum possible bet of €60. For 12,000 spins, there have never dropped three scatters and triggering the free spins feature. Whether it is a bug of the slot machine, or that's the probability of their falling out – it is hard to say. I do not recommend playing in real money mode. This machine was removed from Netent slots line in 2015.
Description of the slot machine: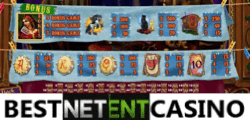 Properties come true ... Especially if you were lucky enough to win and meet a mysterious fore-teller. Once opened, Fortune Teller machine takes you to one of the gypsy camps, always wandering around in search of another home. Looking at the screen, the player simply feels the presence of black-eyed and sweet-haired beauties, fortunate and strong men of a gypsy tribe, and, of course, stately horses and colourful carts – the indispensable attributes of a wandering life.
Around we hear the ring of tambourines and bells, and the cheerful sound of castanets calls to start dancing. Fortune Teller slot machine is made in warm red-brown tones, and bright symbols resemble the concealed future of the cards, laid out by a fortune-teller on a blue cloth. Even the figures of pay lines here are decorated very original and it looks like small coloured coins.
Winning at Fortune Teller:
Specifications:
At Fortune teller video slot, the game is played on 30 active lines. It is realized as a bonus game and free games with multiplication by three.
Five reels and 30 lines - these are the attributes that a good balance of which can bring you the radiant future. It is these characteristics that developers endow with Fortune Teller.
Use the «Bet Level» and «Coin Value» you can select the number of coins per active line (1 to 4) and their denomination (0,01-0,50).
In addition to the usual mode, Fortune Teller video slot has a themed bonus round wrapped in mysticism. It's enough to show intuition and, without risking money, simply turn one after another Tarot cards. But avoid meeting an old woman holding a sharpened scythe, because it will put an end to bonus winning. You can advance to admire the design of the bonus round by pressing the "Feature preview".
Well, the maximum win per single spin is 7500 coins.
Special symbols:
Falling out images on the screen - these are the most interesting elements for a gamer, which are available all without an exception to the machines. Here it is not just bright symbols, it is primarily a reflection of the magical power that can transform ordinary pictures into voiced coins.
The lowest paid, but, nevertheless, very nice symbols have become voiced Diamonds and Tarot cards, decorated with monograms, taken from the pile. Gathering from the active line in the direction from the first reel, you will become richer with 2, 5, 10, 25, 50, 75, 100 or even 125 coins.
A rearing Racehorse, Black Cat and gypsy caravans in case of a successful arrangement on one of the lines, will please the gambler by increasing the rate by 5-500 times.
But besides the usual symbols all video slots are special and carriers of more generous elements. So magic crystal ball has become scatter symbol, bringing the player a lot of really pleasant surprises. Falling out on active lines, Scatter launches free spins and triples the winning.
Wild symbol – Eye of Destiny, a sign with an eye on the palm and Wild inscription, creates real miracles, turning empty combinations into prize money. Well, the appearance on the screen of just three pictures with the image of the fortune-teller will open for you a bonus game, beckoning with the rosiest prospects.
The maximum amount of winnings at video slot can be knocked out during free bonus spins, during which the winning is multiplied by three.
Free games:
Three or more scatter symbols give the gambler twelve free spins.
Bonus spins are played at the same playing bet as the round of the game, which triggered them.
Additional spins can be won in the process of bonus spins.
Winning during free spins are tripled, except additional free spins.
Bonus game:
Three or more bonus symbols on an active pay-line of playing bets launch the bonus game.
Gambler clicks on the tarot cards to find your luck and win even more bonus coins.
Bonus game will end when a gambler chooses Card Death or three cards with prizes.
You may also like the following video slots in Fun mode: