Details
Thank you for rating this article.
Best online casinos with Paysafecard 2020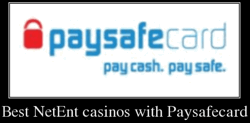 Paysafecard is a type of prepaid card that can be used for making payments on the web as well as at online casinos for playing real money games. The company is based in Vienna, Austria, and the payment service was established in 2000. Since then, Paysafecard has become one of the leading prepaid payment solutions and is available in 37 different
In 2015, Paysafecard bought rival Ukash, which is also a prepaid card used for online payments; therefore, it doesn't exist anymore. With this move, the company confirmed its leading position on the market and became stronger. Paysafecard is sold at 450,000 outlets throughout the world. People buy it with cash and get a 'ticket' with a 16-digit PIN code on it. With it, you are allowed to pay or make deposits on the Internet at websites that have Paysafecards seal. On this page, you will find the best online casinos list with Paysafecard.
The best online casinos list with Paysafecard payments 2020
Paysafecard can be used as a deposit method at the following reliable casinos:
About the payment method
As mentioned in the introduction, Paysafecard has a 16-digit PIN code on it. To deposit money at online casinos, you need to enter this PIN code at the cashier, and the funds will be transferred into your account. That's it. You don't have to provide your personal or banking details to the casino; therefore, your identity is protected. The values in which this prepaid card can be bought are €10, €25, €50 and €100 and this is the exact amount of money which will be available in your account when you make the deposit. However, it should be mentioned that Paysafecard cannot be used for withdrawing money. It is a prepaid card with a fixed amount of money on it, and once this money is spent, you cannot reuse it. That's why casinos offer alternative withdrawal methods for players that use Paysafecard for depositing. These can be cheque and bank transfer.
Top deals