List of Netent slots with big potential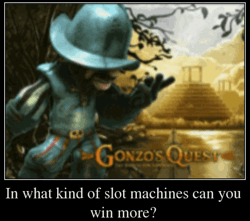 Let's return to the topic of dispersion, volatility and cycle of winning in Netent video slots. In which slot machines can you win more money at same stake? What identifies the dispersion and frequency of winning and why can you win in some video slots a bigger amount than in others? Maybe you will say that it is all about the RTP (return to player percentage): the higher it is, the more we can earn on the distance. You will be right only to some extent.
Many players orient themselves exclusively on the percentage of pay-out (RTP) while choosing a slot machine. In my opinion, much more important is the internal setting the cycle of the winning and the dispersion (volatility). On this page, you will find a list of high volatility slot machines in Netent and their hidden data.
List of high volatility Netent slots
As longer "cycle of winning" is, the more potential online slot has (higher volatility). High volatility means risky game - player can lose a lot in a row, but the "hit" can be extremely big. The main problem of high volatility online slots is that player should survive until the "hit" of big winning.
Logo
Name of slot
(Overview)
RPT
Max win
(coins)
Dispersion
Probability of dropping out the bonus
Fund allocation
main / bonus
Cycle of winning/loosing
length
Devils Delight
97.6%
200 000
Extremely high
no data
no data
The longest
Creature Black Lagoon
96.5%
200 000
High
0.67%
67,5%/ 29,1%
Very Long
Dead or Alive
96.8%
54 000
Extremely high
0.66%
71.1%/ 25.7%
The longest
Jack and Beanstalk
96.3%
600 000
High
0,59%
71,5% / 24,8%
The longest
Mythic Maiden
96.6%
600 000
High
0.67%
74,2%/ 24,2%
Long
Mega Joker
99%
Jackpot
Extremely high
no data
no data
Long
Wish master
96.6%
900 000
Extremely high
-
22,8% / 73,8%
The longest
Wonky Wabbits
96.5%
390 000
High
wild
9,9%
-
Long
Thunderfist
96.7%
1215 000
High
0,9%
64,3% / 32,4%
Long
Stickers
96.69%
80 000
High
no data
no data
Long
Sparks
96.56%
80 000
High
no data
no data
Long
Brief characteristics:
Devils Delight video slot with RTP of 97.6% allows you to win a lot, but only in a "super free spins feature" (if you can collect all souls in the bonus features). But if you "survive" until the end of the cycle and there is not enough money in the prize pool to generate super big winning, then "unlucky" super free games feature will run empty and cycle will restart.
"Creature from the Black Lagoon" slot machine looks similar with "Jack and the Beanstalk". Both of these slots allow you to get a 1000x+ winning if you be lucky enough to pass through all the steps of the bonus feature.
"Dead or Alive" video slot allows you to win a lot, if you catch "wild" in the line during "the free spins feature". It will add you 5 free spins and pay "super big winning" during every spin (wilds are sticky).
"Mega Joker" slot machine has RTP of 99% and it can give really big winning during spins on the top field (super meter mode).
Wish Master video slot has an extremely "long cycle of winning" and either does not give anything or gives a lot. For maximum potential, it is necessary to catch three scrolls, one of which is expanding wild.
Useful materials: