The best Microgaming slots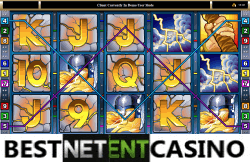 Microgaming is in the online gambling market for 20 years. For a long time it has been one of the leaders, even a monopolist. Today they are not - there are also other providers such as Netent, PlayN Go, Nextgen, Novomatic, Yggdrasil, Amanet and others.
Microgaming does not disclose any information at all about their slot machines, but a lot of informal theoretical data about their RTP has been collected over the years of their existence. On our website you can find the hidden data os Microgaming slots: volatility, RTP, probability of triggering the features, funds destination and others.
Want to know more?
Be sure to use all free freatures of our website and know more about Microgaming online slots software. Click on the links below:
Highlights of Microgaming slots
Slots from Microgaming have a lower RTP (return to player percentage) than NetEnt. It ranges from 95 to 96.5%. However, this doesn't mean that players should avoid Microgaming. Their slots (usually) have much longer return cycle and as a result, higher dispersion of wins (relative to the nominal rate) and bigger potential on big winning. And if NetEnt has a clear leader in volatility (Dead or Alive slot), all Microgaming slots can be attributed as high-volatility with long cycle.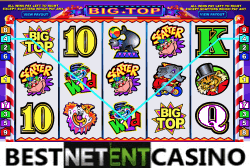 Some the obvious differences between Microgaming slots and the machines developed by other manufactures are:
Distinction between classic and new slots (released in 2014 and later). The most recent games differ from the old slots in the number of pay-lines. They have 243 ways to win (all ways). At some point (in 2015) the company started again to develop slot machines with 10-15 and 25 pay-lines.
In old slots you should use hit and run tactics. Their algorithm is simple and if you had hit a big win - it will take it back in next 1000 spins.
New slot machines play with "waves". If you had chosen a lucky machine - continue to play in it even after several big wins.
Most Microgaming slots have long cycle of winning. In other words, you can loose a hundreds of spins in a row. But when you start winning, the amount will be higher.
Typically, the behaviour of the Microgaming slots can be divided into "do not pay at all," "wins go back and forth," "pay with two scatter symbols", "have no bonus" and "give big win in the bonus game." In NetEnt slots this division isn't so clear and it is difficult to "feel" the game.
List of top slots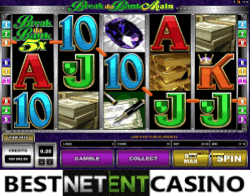 And now we will share the list of best Microgaming slots. Note that slots are listed according to their RTP percentage – from the highest to the lowest. This doesn't mean that the first game is better than the second and so on. A lot depends on their mood. Also note that on our website you can play for free all slot machines from Microgaming, NYX, NetEnt, PlayN Go, Novomatic Gaminator and other slots.
Mega-spin Break da Bank
RTP: 98%
A version with four «screens» of the Break Da Bank Again slot machine. It is the one of our favourite slots.
However, the slot has a long cycle length. All slots in the series of the Break Da Bank are champions in cycle length.
There is no free play version of this slot on our website. However, you can play Break Da Bank Again slot and check the cycle length.
Hot Ink
RTP: 97.5%
The maximum win of 122,500 coins.
The short cycle, low dispersion and high RTP allows you to obtain a positive expectation of winning. This is one of the best Microgaming slots.
Extreme Heat
RTP: 97.5%
440,000 coins – now you can win much in this classic slot machine.
If you like retro themes, you should definitely try this slot.
Big Kahuna - Snakes & Ladders
RTP: 96.9%
With a maximum win of 200,000 coins and high RTP percentage, the slot occupies a leading position among all Microgaming products.
Big Top
RTP: 96.9%
It is a very simple and easy slot. The machine pays regularly and well.
This game belongs to the series of "old" Microgaming slots. The cycle length is short, the dispersion is low.
Carnival
RTP: 96.9%
In fact, Carnival is a twin version of the previous slot machine (and part of the 'old' games from the provider) with minor modifications.
Scrooge
RTP: 96.7%
It's a cool Christmas themed slot with 50 pay-lines and a decent return on bets.
There is no free play version of this slot on our website.
Thunderstruck 2
RTP: 96.65%
The game is highly popular and it's a record holder when it comes to the jackpot you can win on it – a huge 2,400,000 coins.
Thunderstruck 2 has a long cycle and a high variance. Be prepared for a large number of free spins and bonus features.
Check out the free version of Thunderstruck 2
Kathmandu
RTP: 96.29%
The maximum winning is $30,000.
Thunderstruck
RTP: 96.1%
The maximum win per spin is 90,000 coins.
The slot has a high variance, high RTP and a long cycle.
The wilds with a 2x multiplier, the free spins feature with a 3x multiplier on the wilds and the large dispersion of winnings make this Microgaming slot one of the most exciting in the line.
Conclusion
We hope that our list of top Microgaming slots will be useful for you. Note that you can get a positive expectation of winning in an online casino if you play with a bonus (with a wagering requirement lower than 40x) and pick a slot with a RTP percentage higher than 97%. It's highly recommended that you play in safe online casinos. Click on the link below to see the list: