Details

Written by

Kamen Valev
Last Updated: Thursday, 12 January 2023 16:31
Best Casino Games 2023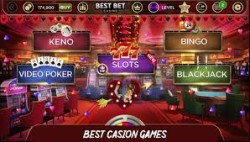 The dwindling nature of the casino gaming industry is one that the world has come to accept. Some game nights are profitable, and others are not. Online gaming has only compounded the volatile character of gambling, so players and operators are always on the lookout for better strategies to get the best out of gaming. The games themselves take priority and are the most important factor.
Good casino games
gather traffic, and this inevitably favours both parties in one way or another. That is why many casinos strive to update their games regularly with enticing new releases, be it slots, Blackjack, Video Poker, Roulette, Craps, Bingo and so on. In this review, we will disclose how to decipher a good casino game, and the best casino ones to go for this year.
What do you hope to gain?
Playing for fun and profit are two distinct driving forces that pool iGamers to a casino. If you visit the game room for fun, any winnings will be an added advantage, while entertainment will be the bonus part if you are interested in playing for big profits. The best casino games come equipped with highlights of both aspects. Many sites also offer some games in unlimited demo mode, so if gameplay experience is all you desire, you do not need to invest any funds.
Things to look out for
Every seasoned casino gamer knows which options are likely to fill his pockets or dry them up, and those who promise an enjoyable night at the casino or not.
Payout Percentage
Usually written as RTP (Return to Player Percentage), this tells you, on average, how much you can take home of what you put in. An RTP of 96% means that for an accumulated bet of $100, you will receive returns of $96, with the remaining 4% being the house edge. This figure doesn't apply to just a single round of gameplay but refers to the payment potential over the long run.
Operator
The casino you choose to play at also matters. Depending on the operator, you may be more prone to winning or losing. Licensed and legally authorized casinos who have been certified for fairness are those you should look out for to guarantee the safety of your data and winnings. The best software providers favour recognized casinos so you will find a wide array of profitable games with great features.
You should be able to step into a casino lobby or visit an online casino and know which section you are propelled towards. Whatever your reason for gaming, there is an option that offers the desired satisfaction. The best casino games for the year 2023 are:
This is one of the most challenging casino games. Strategy and decision making are both required; decent knowledge of mathematics too, with all the additions and subtractions it entails. Blackjack is a classic which has the potential for huge casino payouts. Even if it's not your go-to-choice, I recommend giving it a try. The rules of the game are easy to understand for first-timers, and the house edge is the lowest out of all casino games, standing at just 0.3%.
Offering some of the best odds, this game is similar to slots with the difference being that the RNG duplicates the odds you'd find in an actual deck of cards. These games require the player with a certain level of skill and one that can calculate the payout percentage such that you will have greater control than you would in most other games. Classic Jacks or Better and Deuces Wild are available in this category.
More than half of the offerings in any operator's lobby belong to this category. Not all slots are created the same, but they generally don't require you to do much thinking. Even the most challenging slots are easier to play through than most other casino games. All you need to do is place a wager, spin the reels and wait to see the outcome. Slots are designed with video game concepts so that you can expect quality graphics, storylines, and in-built features. That is probably why they offer some of the best gameplay experiences. If you enjoy playing for fun, they are your best choice at high-class entertainment. Top choices at the moment include Dead or Alive II, Spinata Grande, Starburst, Book of Ra Deluxe, Game of Thrones, Wheel of Fortune and Castle Builder.
Perfect for high-rollers, this card game is played between two hands, the banker and the player. There are three possible outcomes: the banker could win, the player could win, or the game can end in a tie. If you prefer relaxing gameplay, Baccarat is a good choice. It is slow-paced, does not require much strategy and the payouts are on the higher side.
This game is a very social one, and unless you are playing at an online casino, there are usually lots of players at the table. This makes it a rather slow-paced game, so make sure you have some time on your hands before trying this one out. Roulette has many variants such as European Roulette, American Roulette, Roulette Royale, Multi-wheel Roulette and more, but the guiding principles are fundamentally the same; you place bets on a possible outcome on the wheel.
You can lose so much as easily as you can win while playing Craps. Newcomers are advised to learn the workings of the game before dabbling into it because it can be a little complicated. The shooter rolls the dice aiming to get a combination of 7 or 11 and avoid 2, 3 or 12 combos coming out. Players get to place bets on the outcome.
Getting a straight, a flush or a straight flush is much easier considering that there are only 3 cards in play. Some math calculations are required here, but generally just the basic stuff. The payout percentage is 96.7% on average, but 3 Card Poker is one of the most exciting options in any casino.
Where to play?
Fastpay casino is the top gambling place from our site. They have over 5000 casino games.