Details

Written by

Kamen Valev
Last Updated: Friday, 26 February 2021 09:52
What is the Best Card Game in Australian casinos?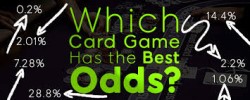 Alongside pokies, Table Games, and Bingo,
Card games are a staple in every casino
. This game of skill has been in existence for countless years, and people often play these games at home because all you require is a deck of cards and one or more playing partners.
In recent years, even with the onset of video games, Card games are still very popular. Many drinking games use cards, and they have been adopted as in-built features for computers and mobile devices; even if cards aren't your thing, you can't deny having ever played a round of solitaire as timepass at some point in your life.
Card Games or Not?
With a wide variety of casino games available, players often skip this category and opt for more modern alternatives like pokies, Roulette, or even Bingo. However, these classics have so much to offer, besides being some of the highest paying casino games.
The RTP of most card games is in the 99% range. High variance also characterizes this category and punters can bet with low stakes as well as big ones. Modern players who are in love with fast-paced games may be skeptical of playing casino card games on land-based lobbies because of the crowd of people, but with online gaming, the speed is greatly hastened, so it doesn't drag on for long.
The question "What is the best casino card game?" may be tough to answer specifically. We hope we can help with this countdown of the best casino card games.
At Number 5 is Casino Hold 'em; this poker variant is the simpler version of Texas Hold 'em and is perfect for Newcomers to Poker. There are fewer bets and rules are simple and straightforward.
How to play?
Each punter places an Ante bet at the start of the game, next the dealer deals 2 face-down hole cards (pocket cards) and 3 face-up community cards (board cards). At this point, you can decide to fold or place a Call bet. If you fold, you give up your cards and your Ante bet, whereas if you call, you will have to stake twice as much as the Ante. Following a Call, the dealer deals two more community cards and finally turns over his hole cards.
The dealer qualifies with a pair of fours or higher. If you lose, both the Ante and Call are lost. If you win, you are rewarded according to the Ante paytable, and the Call pays 1-1. If you tie with the dealer, then both bets will push. If the dealer does not qualify, Ante will pay, and Call will push.
One of the most popular card games nowadays is Texas Hold'Em Poker. The rules here are a bit complicated, and it requires the application of a great deal of strategy.
How to Play?
You and every other player are dealt two hole cards, followed by a round of betting. The Flop, consisting of the first three community cards, is turned simultaneously, after which there is a second round of betting. The fourth and fifth community cards are turned one after the other with a betting round after each turn. At the showdown, you win if you possess the highest 5-card hand.
If you love pokies, you will appreciate Video Poker as well. Deuces Wild, Jacks or Better, Joker Wild, Double Double Bonus Poker, and Bonus Deuces Wild Poker are different versions available in most casinos. This is the only card game that is not a table game but is played on a video poker machine in land-based casinos. It involves strategy and pays well if you make the right choices and hold the right cards. RTP stands at above 99.5%.
How to Play?
The goal is to make the best Poker hand by holding or discarding elements of your 5-card hand. You are dealt five starting cards from a randomly shuffled 52-card deck. You can either hold or discard cards in your hand; discarded ones are replaced in a single draw. Achieving any qualifying poker hands rewards you based on a predetermined pay scale. The winning hands for video poker include Royal Flush, Straight Flush, Four of a Kind, Full House, Flush, Straight, Three of a Kind, Two Pair, Pair of Jacks or Better.
Baccarat is a simple game based predominantly on chance and your skills of prediction. The strategy is irrelevant, but it is advisable to avoid betting on a tie unless you get a lucky feeling.
How to Play?
At the start of the game, place a bet on either the player's hand or the banker's hand (not referring to the house). Two cards are dealt in the punter's box and the banker's box each. The hand that totals closer to 9 points wins. Tens, Jacks, Queens, and Kings are worth zero points and Aces are worth 1. Points that exceed 10, assume the value of the second digit. 8 or 9 points is considered a natural win and immediately brings the game to an end. There is the possibility of a third hand for the player if the current hand totals 5 or less, and the banker's hand is less than 8.
The number 1 spot goes to the ultimate card game, Blackjack. This one is all about strategy; a little luck wouldn't hurt though. Punters compete against the house instead of against each other, and you will be happy to know that the house edge here is very low, more or less 0.3%. The rules are simple; you need to get a hand total that is closer to 21 compared to the dealer. Going over 21 results in a bust where you lose your bet.
How to Play?
You are dealt two cards face up, and the dealer is dealt the same number with one face down. The player must act before the dealer, and during gameplay, you have to make decisions on every turn.
Stand; where you are satisfied with your hand total.
Hit; if you want to be dealt another card.
Double Down; where you have a favourable hand, to place a second wager identical to the first.
Split; to divide the cards into two hands if the initial two cards are matching.
Surrender; to walk away with half your bet and give up your hand.
Related articles
Where to play?
Fastpay casino pays money to payment systems and bank cards within a few minutes (up to 5). They have a rich choice of casino games (over 5000), including all types of card games and one of the best customer care in the online gambling industry.